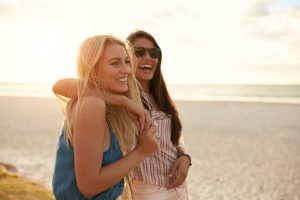 As the weather starts to get warmer, you begin pulling all of your summer clothes down from the attic and restocking your closet. You've been working on getting a great beach body but feel like it's not going to distract from your noticeably stained and slightly crooked smile. Between all the outings and events you have planned this summer, you know you're going to be tagged in hundreds of candid pictures and want to look great, even when you're not trying to. Lucky for you, you have a few options to put your smile makeover into motion.
Teeth Whitening
This is one of the fastest and most cost-effective ways to get your smile brighter. There are two options available to you for the most convenient experience:
In-Office Whitening—This treatment offers you immediate results while getting professional help. You're able to sit back and relax while your dentist begins the three-part process. Your dentist will apply a whitening gel that helps tackle the surface stains on your teeth. It may be reapplied to achieve your desired smile.
At-Home Whitening—If an extra couple of appointments with your cosmetic dentist isn't doable for your schedule, you can always get a professional at-home treatment from them. These kits come with customized trays for your teeth that you can wear during the day or night. Typically, this process takes a couple of weeks, but they give you the professional results that you'd receive from in-office treatment.
Porcelain Veneers
While teeth whitening may be able to brighten your smile, it can't make it appear straighter or cover up chips and cracks in your teeth. Porcelain veneers can correct all of these problems. They are thin porcelain shells that are crafted from impressions taken by your cosmetic dentist. Not only are they stain-resistant, but they are also made to look and feel like your natural teeth. Once your veneers have been made, your dentist will double check the fit and bond them to your teeth, creating a seamless smile.
Cosmetic Bonding
Cosmetic bonding is another procedure that can help repair gaps, misshapen teeth, and chipped teeth. A composite resin is used to make your smile symmetrical and even. Because it doesn't require any kind of preparation, it's often a fairly fast procedure.
Your dentist will choose a resin that closely resembles the color of your natural teeth, and then they'll craft it to look similar in texture to enamel. It will then be molded and bonded to your tooth with ultraviolet light. After it's attached, they'll go in and perfect all the fine details by trimming and shaping your tooth to match the rest of your smile.
Having a seamless summer smile without gaps, chips, or cracks won't just make you feel more confident; it'll make you look great. Worrying about how you look in pictures will be a thing of the past after you get your dream smile!
About the Author
Dr. Colin Holman is able to provide complete comprehensive care to you and your family. By offering cosmetic treatments such as teeth whitening, veneers, and cosmetic bonding, you can get your smile ready just in time for summer. To schedule a consultation appointment or for any questions, visit our website or contact us at 405-735-6600.