Frequently Asked Dental Questions – Oklahoma City, OK
Get the Answers You Need to Keep Your Smile Healthy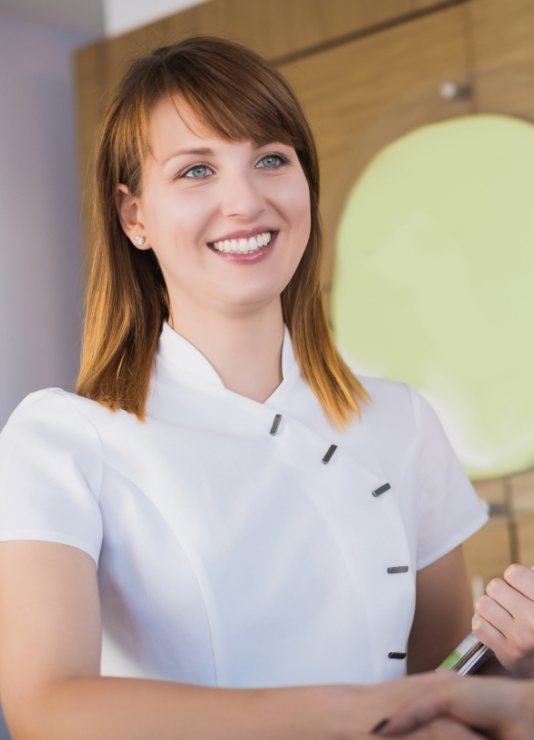 Do you have questions about any of the treatments we offer or how to take care of your smile? Our team is happy to help! Below, we've collected some of the most common questions we receive from our patients along with our answers. If you still don't see what you're looking for, please give us a call!
How do I know when it is time for a checkup?
The American Dental Association recommends visiting the dentist twice a year (every six months) for a checkup and cleaning to maintain good oral health. In cases where you may be at a higher risk of developing issues like cavities, or if you've been diagnosed with gum disease, you may need to come in more often. Our team is happy to schedule your next visit before you leave your checkup and cleaning, and we'll send you a reminder so you don't forget!
My gums bleed after I brush. Is this something to be concerned about?
While many people think it's completely healthy for gums to bleed while they brush or floss, the truth is, it's often a sign there's a problem. This is one of the first warning signs of plaque and bacteria build-up in the mouth leading to gum disease. In many cases, it can easily be remedied with appropriate treatment and a good oral hygiene routine at home, though. However, when left unaddressed, it can lead to more severe effects, like gum recession and tooth loss.
What is a digital X-ray, and how is it different from traditional X-rays?
Traditional film X-rays and digital X-rays are different in the same ways that digital and film cameras are! Digital X-rays can quickly snap a photo and make it immediately viewable to the dentist, and the image quality is significantly crisper. Film X-rays have to be processed before dentists are able to view them, and they're often grainier. The overall quality of digital X-ray imaging is much better, leading to more accurate diagnoses and streamlined visits.
I avoid dental visits because of anxiety…is this normal? Can you help?
It's not uncommon for people to experience dental fear due to a bad experience or anxiety. That's why we offer oral conscious and nitrous oxide sedation, so you can have a more relaxing and comfortable experience.
After my root canal, will I experience sensitivity to hot and cold?
After root canal therapy, you'll likely experience some sensitivity, but it should subside with time. If after two weeks you're experiencing constant sensitivity, please call us immediately so we can ensure you find relief.
How can I make my smile brighter?
We offer in-practice as well as take-home professional teeth whitening that uses concentrated ingredients that are safe for your smile. Our in-practice treatment can have your smile up to eight shades brighter within an hour, while our custom take-home treatment can whiten teeth within two weeks of use.
I have old, dark fillings. Can I get ones that look better?
If you have an old metal filling or crown, you can have it replaced with a more aesthetically pleasing tooth-colored one. We utilize durable, natural-looking materials like composite resin, porcelain, and ceramic to make restored teeth blend in with the rest of your smile.
Do you accept referrals?
We appreciate and are happy to accept referrals, and we value your confidence in our team's abilities!
What does my dental insurance cover?
Every dental insurance plan's coverage can vary, which is why it's always a good idea to reach out to your insurance company if you're wondering whether a specific treatment will be covered by your benefits. That being said, many plans utilize a 100-80-50 coverage structure, which means they cover 100 percent of preventive treatments, 80 percent of basic procedures, and 50 percent of more invasive services.
What is a dry socket?
A dry socket typically occurs after a tooth extraction, when the blood clot is removed prematurely and allows air to come into contact with the bone in the socket. That's why it's recommended that you don't smoke, use a straw, drink carbonated beverages, or spit for a few days following your treatment.