Dental Implants – Oklahoma City, OK
Restoring Your Smile from the Roots Up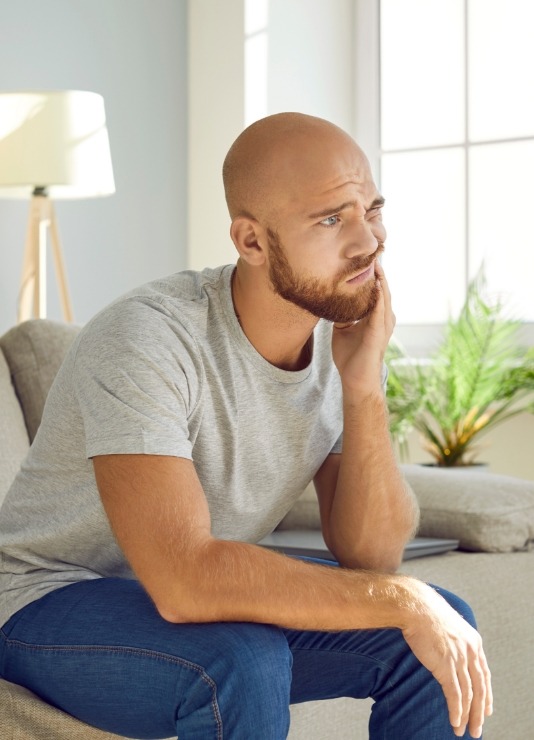 Without a complete set of healthy teeth, eating, speaking, and smiling isn't easy. Aside from the functional problems, missing teeth negatively affect image and confidence. You do not have to live with an incomplete smile. Take charge of the situation and improve your quality of life today! Contact us today to schedule a consultation with dental implants in Oklahoma City with our dentists.
Why Choose Dental Expressions for Dental Implants?
In-House Dental Implant Placement
Dentist with Years of Experience Restoring Smiles
State-of-the-Art Dental Technology for Greater Results
What are Dental Implants?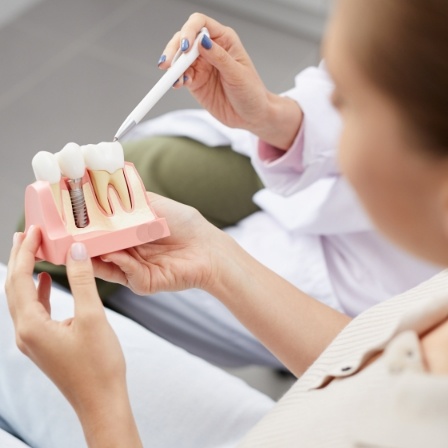 A dental implant is the only tooth replacement option that restores your tooth from the root up. The titanium post acts as the tooth's root, giving the bone the stimulation that it needs to stay strong and hold up the implant and its custom restoration. After putting the implant in place and spending a few months healing at home, you'll return to our office and allow our dentists to place your abutment (a metal connector piece) and your custom dental crown, bridge, or denture. Your restoration will be matched to blend in with the rest of your smile.
Because they recreate 100% of your original tooth's structure, dental implants can feel, function, and look almost exactly like the pearly whites you used to have. If you're missing one or more teeth, chances are your dentist will recommend dental implants as the ideal solution.
Benefits of Dental Implants
Each year, over 500,000 people choose dental implants to replace their missing teeth, making them one of the most popular dental services available. Because of their unique placement in the jawbone, dental implants can provide a wide range of health, lifestyle, and aesthetic advantages that you won't be able to find with other replacements like bridges or dentures. Read below to learn about some of the life-changing benefits of dental implants in Oklahoma City.
Day-to-Day Benefits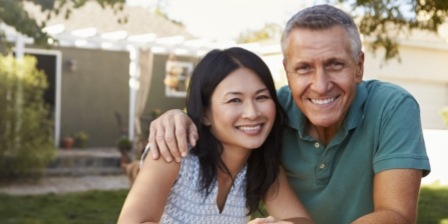 Confidence: Missing teeth can make it difficult to grin. Dental implants from Dental Expressions restore your teeth and give you the confidence you need to smile, speak, and eat without worry or embarrassment.
Diet: Rooted in the jawbone, dental implants are incredibly strong. Instead of avoiding certain foods due to missing teeth or unstable dentures, dental implants allow you to eat a more varied diet. Of course, this is better for your health, but it also makes eating fun again.
Look and feel: Dental implants are the only replacement that is truly comprehensive, restoring the teeth from the roots up. The result is a smile that looks and feels just like your natural one. In fact, dental implants allow your restorations to mimic the way your natural teeth emerge from the gums for the most realistic replacement.
Health Benefits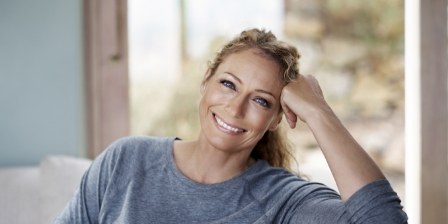 Bone health: When missing teeth are left untreated, the hole that is left can lead to bone and additional tooth loss. As your bone deteriorates, it can cause changes in your facial appearance (facial sagging), shift teeth, and make you more vulnerable to gum disease. Dental implants act as the root of your tooth, stimulating the bone to keep it strong, so it can support the custom restoration on top.
Dental health: Unlike a fixed bridge that requires healthy teeth to live on either side of the gap, which is then affixed with crowns to serve as anchors, dental implants placed by your implant dentist in Oklahoma City require no alteration of your natural, healthy teeth.
Overall health: Dental implants encourage better oral health, which helps you avoid issues like gum disease. This problem is linked to increased risks of overall health problems like cardiovascular disease, high blood pressure, diabetes, and more.
Long-Term Benefits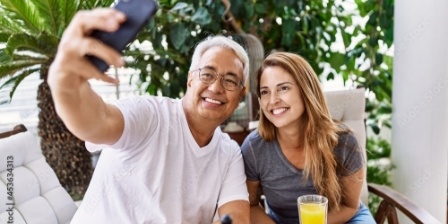 Longevity: If the idea of replacing your restorations every few years sounds like a hassle, you'll be happy to know that dental implants can last for decades with proper care like brushing, flossing, and visiting our office for routine appointments.
Predictability: One of the reasons why dental implants are so popular is they are incredibly predictable. When placed by a professional, they have a success rate of 95% even after 10 years, making it a solution that patients can depend on for years to come.
Cost: While dental implants in Oklahoma City come with a higher cost initially, they may actually save you money in the long run. Traditional restorations like dentures must be replaced every 5 to 7 years; however, dental implants last much longer. This will save you time and money by avoiding unnecessary replacements and the dental visits that come with them.
Who Dental Implants Can Help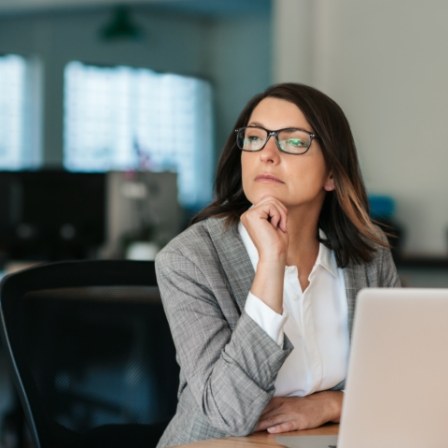 As we mentioned before, dental implants are extremely versatile. Missing one tooth? Not a problem. Missing multiple or all your teeth? We've got you covered.
Missing One Tooth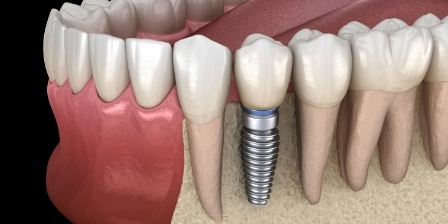 By surgically placing a single dental implant into your jawbone, you won't be able to tell the difference between your natural teeth and your artificial ones. Once the implant is positioned correctly, you'll spend a few months healing and allowing a process called osseointegration to occur. This fuses the implant to the bone. Once you've fully healed, you'll return to have an abutment placed and then the customized crown. Your custom-made restoration will be matched to the color, size, and shape of your natural tooth, so you'll leave with a perfectly blended smile.
Missing Multiple Teeth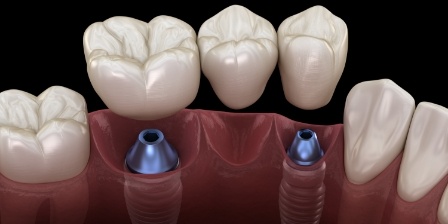 If you have multiple, consecutive missing teeth, your dentist might suggest an implant bridge. Placing implants on either side of the gap keeps your natural teeth from being altered, provides stimulation to the bone, and fills in the gaps left by the missing teeth.
Missing All Teeth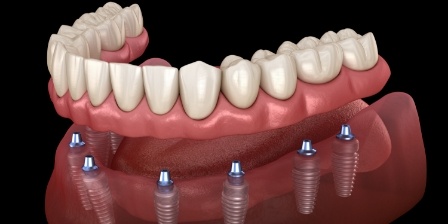 An implant denture is a great alternative to traditional dentures because they won't accidentally slip or fall out. Depending on the level of bone density you have, Dr. Holman can place several implants on an arch to serve as the foundation that will hold up your custom-made denture. If there isn't enough bone support, it may be necessary that you have a bone graft prior to receiving dental implants.
Learn More About Implant-Retained Dentures
Understanding the Cost of Dental Implants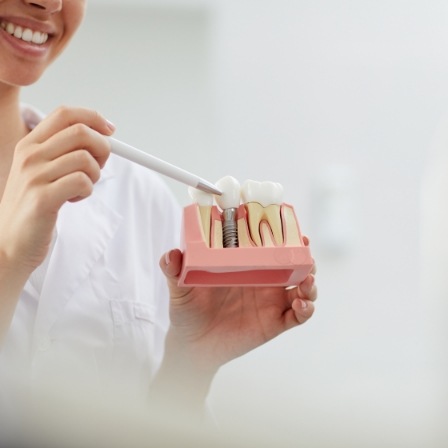 Unfortunately, there isn't a one-size-fits-all approach to pricing dental implants. Each patient and treatment plan are different, which means several factors must come into play to determine how much it will cost. Some of these factors include:
The number of implants placed
The materials used
Anesthesia/sedation
Pre-implant dental work
The only way to receive a detailed explanation of the cost is by scheduling a consultation with Dr. Holman. He will not only provide you with an estimated price, but he will discuss the process and procedure for dental implants, as well as discuss how many you will need to help you achieve your desired results.
Dental Implant Aftercare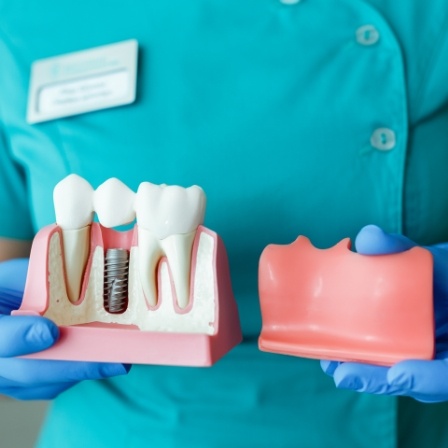 Having dental implants placed is an exciting step toward regaining the life you once had. For the healing process to be successful and to ensure that your tooth replacement lasts, there are some important steps for you to take. Because we're in your corner and eager to help you experience the joy of having a fully functional and attractive set of teeth, we've created a simple, yet effective, post-surgery blueprint for you to follow. Continue reading to find out what you can do to encourage healing and a successful dental implant.
Make Oral Hygiene a Priority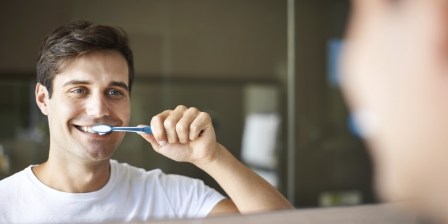 The steps taken for maintaining dental implants in Oklahoma City are quite similar to those taken for your normal teeth. As is always the case, proper oral hygiene is at the forefront of importance. While prosthetic teeth aren't subject to decay like your natural ivories, the gums they rest on are still very much alive and active. That means that any leftover debris from eating or drinking can gather at the gumline and contribute to the accumulation of plaque.
If the sticky substance is allowed to work its way beneath the gum line, germ pockets can form, which is the gateway to gum disease development. Performing proper and consistent oral hygiene helps to mitigate this problem.
Here's what you definitely need to do:
Brush your teeth – By brushing at least two times a day, you'll help to agitate any leftover debris that may cling to your prosthetics and eventually gather at the gum line. As usual, you'll get the best results by choosing a toothbrush with soft bristles.
Use floss made for dental implants – Look for unwaxed tape or floss that is made specifically for implants. They will accommodate your prosthetics while still providing the usual benefits of removing hard-to-reach debris and bacteria.
Protect Your Dental Implants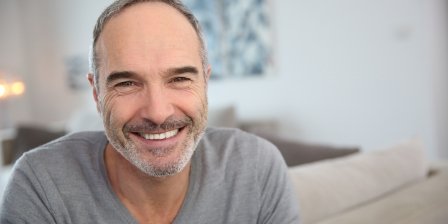 Just like your natural teeth, implant-retained prosthetics aren't infallible. If you suffer from bruxism (teeth grinding), then it's a must that you bring it to our attention. Therefore, Dr. Holman can custom design a nightguard for you to wear. Otherwise, the irregular pressure created by your teeth grinding could cause your implants to unseat.
Another possible threat to your implants is any involvement in sporting activities. That's because any time people are moving around hurriedly, there is a chance of a sudden collision or a bad fall. The last thing you want, after finally having your smile and functionality restored, is to suffer a dislodged tooth.
To prevent this from happening, Dr. Holman can custom-craft a mouthguard for you to wear. Like the bumper on your vehicle, it acts to redirect impact away from your teeth so you can avoid an uncomfortable dental emergency and protect your beautiful new smile.
Schedule Regular Dental Checkups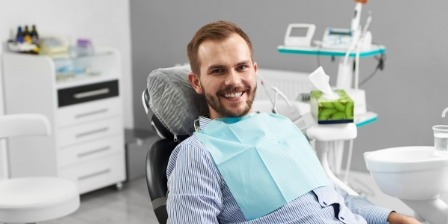 It's always important to maintain regular visits to our office for preventive dentistry, which includes checkups, cleanings, and X-rays (when necessary). The visits are even more important to maintain after you received dental implants. While you're here, Dr. Holman will assess the health of your implants and identify any signs of trouble so they can be addressed rapidly.
Here are some of the issues he'll be checking for:
Implant mobility
Ongoing pain or sensitivity
Swelling or infection around the dental implant
If any issues are detected, your dentist in OKC can work with you to formulate a plan of action. The sooner any problems are identified, the less complex the treatment protocol will usually need to be.
Across the board, dental implant insertion has a 95% success rate. By doing your part after your surgery, your implant can possibly last up to a lifetime!
Dental Implant Failure & Salvage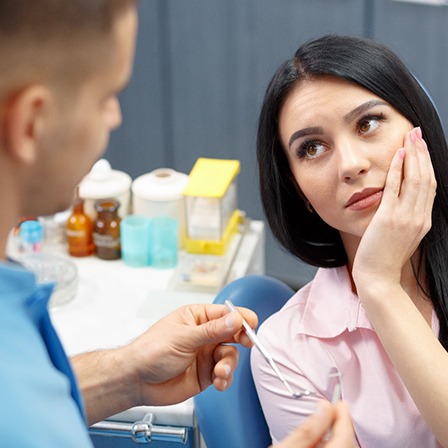 While dental implants in Oklahoma City have a success rate of over 95%, occasional implant failure can occur, often due to factors like infection or trauma. If you notice any unusual pain or looseness in one of your implants, you need to act promptly. Contact Dental Expressions immediately! Our skilled team will evaluate the issue and take every measure to protect your dental implants and ensure your oral health is maintained.
Learn More About Dental Implant Failure & Salvage
Dental Implant FAQs
Dental implants in Oklahoma City are a big investment because they can last for decades with the right aftercare. Although you're excited to start your journey to a complete smile, it's normal to have several concerns before you're ready to commit to them. There's no need to worry. Dr. Holman will take the time to explain the treatment process during your initial consultation. While you wait for your appointment, here are the answers to a few of the most common questions about dental implants.
Am I too old for dental implants?
If you're interested in dental implants, your age doesn't matter as long as you've finished growing. Instead, several other factors determine your candidacy, like your oral and medical health. Dr. Holman will also discuss your lifestyle history and take a CT scan to ensure dental implants are the right choice for you.
Can I get dental implants if I have gum disease?
Dental implants can last for a lifetime if they have the right foundation and care over the years. Their long-term success relies on their integration with your jawbone and remaining infection-free. Therefore, you can't get dental implants if you have active gum disease. With infection being the leading cause of tooth loss, you may need periodontal disease therapy before undergoing your placement surgery. Although it will add another step to your treatment plan, it's time well spent to ensure the success of your new smile.
Does getting dental implants hurt?
Replacing your missing teeth with dental implants will require oral surgery. During the procedure to place the posts into your jawbone, you won't feel any discomfort because an anesthetic or sedative is used.
Patients who need one implant post may only need a local anesthetic, whereas a person needing multiple posts or those with complex needs may require sedation or general anesthesia. No matter the type used, rest assured, you won't feel any pain during your placement surgery. As with any surgical procedure, there will be some discomfort during the recovery process, but it can be managed easily using an over-the-counter pain reliever.
Will my dental insurance pay for dental implants?
Unfortunately, it's rare for dental insurance to pay the entire cost of dental implants, but they may cover certain aspects of the treatment depending on your specific policy. Some insurance companies may cover as much as 80% of certain steps in your treatment until you reach your annual limit, but you'll need to pay your deductible first. We'll work on your behalf with your insurance carrier to file the necessary claims and paperwork to lower the amount you need to pay out of pocket.
We'll discuss any remaining balance as well as your payment options to keep your treatment affordable, such as using third-party financing with CareCredit. You're given the funds you need for the remaining costs, which you will then repay using a payment plan that accommodates your budget.
If you have questions about dental implants, contact our office today to learn more.