Children's Dentistry – Oklahoma City, OK
Special Care for Growing Smiles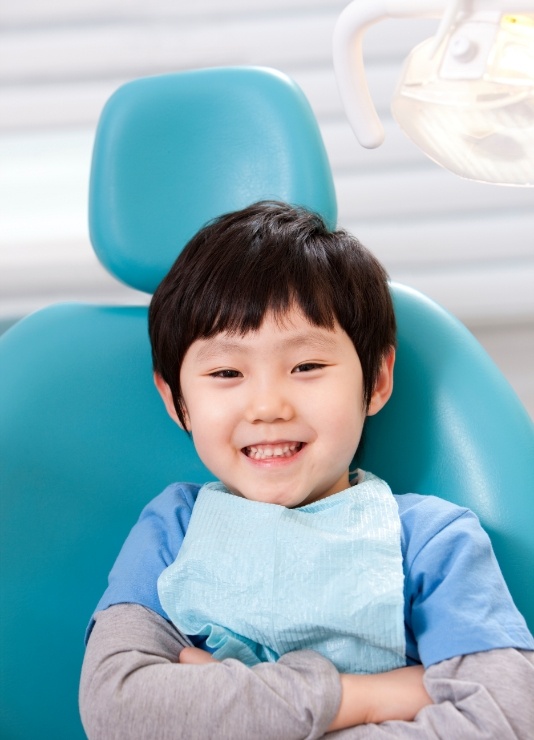 For children's dentistry, parents and guardians come to the dentists and staff at Dental Expressions because we love children and welcome them with open arms. Kids are precious, and their smiles are priceless. As your trusted family dental care providers, the dentists and team will help your little one build a healthy foundation for a lifetime of smiles.
Why Choose Dental Expressions for Children's Dentistry?
Dental Technology Safe for Young Smiles
Customized Athletic Mouthguards for Added Protection
Dentists with Decades of Experience
Dental Sealants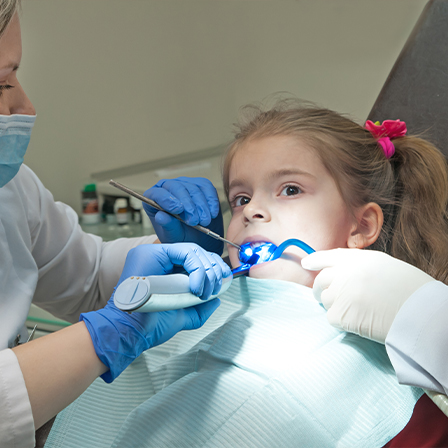 Children often have a hard time reaching their molars and premolars while brushing. This often results in cavities and decay forming in the pits and grooves of these teeth. To better care for these areas of the mouth, our team at Dental Expressions can recommend dental sealants. Applied to the chewing surfaces of the molars and premolars, the sealants create a protective barrier, preventing any bacteria and harmful particles from penetrating. When properly cared for over time, they can stay in place for up to a decade and minimize the risk of cavity development.
Silver Diamine Fluoride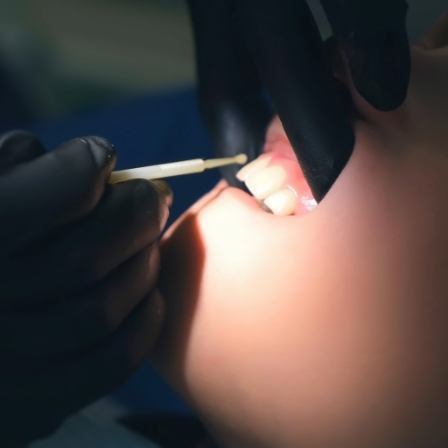 When a cavity forms, it is often recommended that a child receive a tooth-colored filling. However, if it is possible to eradicate the decay and stop it in its tracks, we will do so with silver diamine fluoride. The silver kills the bad bacteria, while the fluoride strengthens the enamel and keeps any decay from spreading. This is a great treatment option for children who are not yet ready to undergo a tooth-colored filling.
Athletic Mouthguards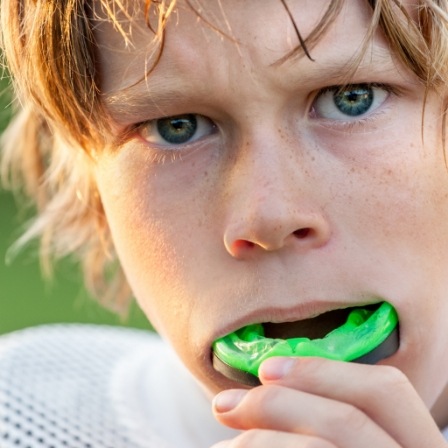 If you have an avid athlete in your home, it's time to consider better protecting their mouth with a customized athletic mouthguard. When worn correctly, these oral appliances can safeguard young smiles from serious injury. Our mouthguards are custom-made to fit each child's mouth comfortably so that they will keep it in throughout the game. Not only does it absorb unwanted pressure placed onto the teeth and gums, but it also minimizes the potential for visits to the emergency dentist's office.
Pulp Therapy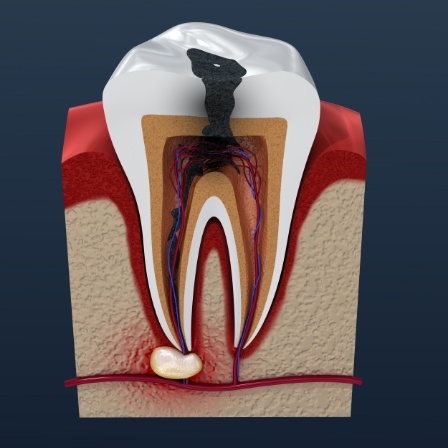 Severe damage or decay is problematic; however, when they reach the innermost layer of your child's tooth, the pulp, the situation can become even more serious. Pain, inflammation, and worsening oral health can become a reality if the tooth is left untreated. This is why we offer pulp therapy. Using advanced solutions and techniques, our team will carefully remove the infected or damaged pulp, clean out any existing canals, and protect the vulnerable tooth while it strengthens over time. With this type of treatment, we can improve the status of your child's oral health and avoid the potential for tooth extraction.
At-Home Child Dental Care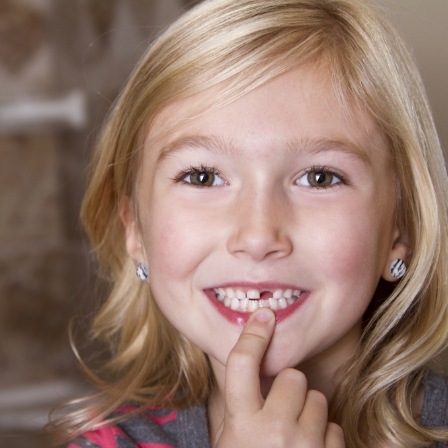 You are your child's first dentist and the example you set will stay with them throughout their lives. We encourage parents to demonstrate healthy oral hygiene care by allowing children to "help you" brush your teeth. And of course, teaching them to care for their own teeth is vitally important.
Young children need to be supervised when they brush and floss their teeth, because as they learn, they may not be able to adequately clean all of their teeth—especially those in the back of their mouths. Around the age of seven or eight, most children are capable of brushing on their own and they usually are ready for the responsibility. Nevertheless, a reminder now and then of how long they should brush—at least two minutes—and floss every night to remove plaque and food particles from between teeth may be necessary.
Children's Dental Treatments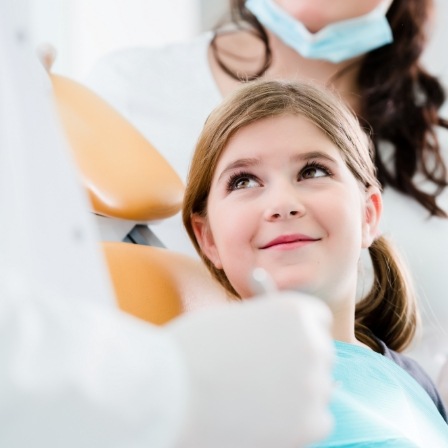 Bring your child in around the age of three for a "happy visit" – or sooner if you have cause for concern. This initial appointment allows us to meet your child and introduce the tools, friends, and atmosphere at the dentist's office. Your little one will take a ride in the dental chair, meet Mr. Thirsty, and find out that dental visits are fun!
By age three to five, your child should schedule six-month checkups and cleanings. We'll look for signs of developmental problems and dental disease, and provide prompt, conservative treatment when needed. Your child will be shown how to properly care for their teeth and gums at home, by demonstrating simple brushing and flossing techniques. All questions are welcome – even the cute ones from the kids!
The children's dentist Oklahoma City parents rely on may recommend dental sealants, which are clear plastic coatings that protect molars from sugars and starches that cause cavities. A fluoride treatment will also ward off tooth decay. Fluoride is a naturally occurring mineral that, in small dosages, attracts other minerals to strengthen teeth. In addition, fluoride helps to remineralize spots of enamel where tooth decay is beginning to develop. If your little one plays sports, the dentist can create a custom-fitted mouthguard to protect teeth and gums from injury.
Bring your children in to meet us. We can't wait to see them smile!
Children's Dentistry FAQs
Being a parent doesn't come with a guidebook, so it's natural to have questions about how to best care for your little one's smile! For your convenience, we've gathered some of the most common queries we get about children's dental care below. If you don't see the answer you're looking for, feel free to contact us here at Dental Expressions and we'll be happy to provide the information you need to keep your family's smiles happy and healthy!
How can I prepare my child for their first visit?
Your actions as a parent play a huge role in how your child forms their opinion about dental care, even before they meet their Oklahoma City children's dentist. Thankfully, there are plenty of easy ways to prepare your child for a successful first dental appointment, like:
Keeping a positive, excited tone when talking to them about their appointment.
Watch videos or read books about going to the dentist.
Play pretend dentist and count their teeth with a toothbrush while they sit in a chair.
Try to schedule their appointment during a time when they're typically in a good mood to avoid tantrums, like after a nap or meal.
Can thumb-sucking be harmful to my child's oral development?
Thumb sucking is a natural reflex for children that can help them feel safer and more comfortable. However, continuing this habit as their permanent teeth begin to come in (usually around the age of six) can cause crooked teeth, bite problems, and jaw development issues. While children typically stop sucking their thumbs by age four, we'll be happy to provide tips for additional help should you need it.
What should I do if my child knocks out their baby tooth unexpectedly?
Even though baby teeth aren't a permanent fixture in your little one's smile, you should call us right away if one gets knocked out unexpectedly. If it was close to coming out on its own, we may not need to do anything. If it was knocked out very early, however, we may need to place a space saver to keep the surrounding teeth from shifting into the gap and trapping the permanent tooth underneath.
Why do children get so many cavities, and how can I protect my child?
The enamel on baby teeth is much thinner than that of permanent teeth. Combine that with children's sugary treats and beginning dental habits, and you may notice that your little one gets more cavities than you would expect. Thankfully, at Dental Expressions, we offer specialized services like sealants and fluoride treatments that are designed to safely protect growing smiles from tooth decay.
Do cavities in baby teeth really need to be treated?
It may seem trivial at first to treat a cavity in a tooth that will eventually fall out naturally. However, leaving tooth decay untreated will expose the tooth's sensitive inner layers to damage and bacteria. Not only is this incredibly uncomfortable for your child, but it can lead to a serious dental infection. We'll always aim to help your little one prevent cavities from forming, but we're also prepared to repair your child's smile with a safe, metal-free tooth-colored filling.