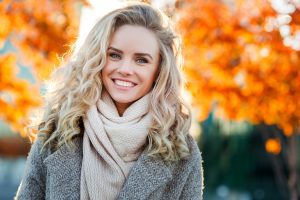 For many people, fall is characterized by the "three F's": football, family, and food. However, all that time spent around the grill at football tailgate parties or around the family dinner table at Thanksgiving can increase the risk of tooth decay. Navigating this time of the year is always tricky when it comes to maintaining your oral health but following the advice of a dentist can help. Here are some helpful tips on how to maintain good oral health during the harvest season.
A Healthy Mouth Begins with a Healthy Diet
Pumpkin-spiced treats are everywhere this time of year, but snacks and other foods with high levels of sugar can contribute to tooth decay.
Instead, reach for fiber-rich fruit and vegetables like apples, carrots and celery, which help stimulate saliva production in your mouth. Increased saliva provides a natural defense against cavities and decay.
In addition, dairy products like milk and yogurt are an excellent source of calcium, phosphates and vitamin D. Consuming foods and drinks with high levels of calcium will help strengthen your bones and rebuild your enamel.
Yellow Leaves are Pretty. Yellow Teeth are Not!
The changing colors of leaves in autumn is a highlight of the season. However, the bright shades of yellow are prettier on a tree branch than the dull yellow of a stained tooth. While some discoloration is natural as we age, certain foods and drinks can also darken your smile, such as:
Coffee
Tea, especially black tea
Red wine
Dishes with red tomato sauce, such as those common in Italian and Indian cuisines
Basically, anything that can stain a white t-shirt can also stain your teeth. Limit your intake of these types of foods and drinks to keep your teeth from staining, or if you do consume them often – coffee every morning, for example – try to brush your teeth soon after.
Why Good Oral Hygiene Is Still Key
In addition to being careful about the foods and drinks you consume, practicing good oral hygiene habits on a daily basis is key to maintaining good oral health. Here are 3 basic but important oral hygiene tips:
Brush twice a day for a full two minutes each time, using small, circular strokes.
Floss at least once a day to remove bits of food stuck in between teeth.
Visit a dentist every six months for a routine exam and cleaning, as suggested by the American Dental Association.
Avoiding cavities this autumn is not mission impossible. By staying mindful of what you eat and drink and practicing daily good oral hygiene habits, you can have your pumpkin cake and eat it too!
About the Practice
Dental Expressions provides honest, compassionate dental care in a state-of-the-art facility for patients from Oklahoma City, Moore, Norman, Midwest City and surrounding communities. Dr. Colin Norman and his staff believe each patient is unique and take the time to learn about each individual's desires and goals regarding their oral health. To learn more about Dental Expressions visit their website today or call the office at 405-735-6600.