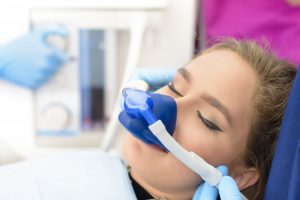 For a while now you've had a toothache that has been giving you some serious pain. It really bothers you, but your fear of the dentist is overwhelming. You're scared of lying there vulnerable while the dentist pokes around in your mouth. If this sounds familiar, then you could benefit from sedation dentistry. It can soothe your dental worries in no time. Continue reading to learn more about how sedation can allow you to get the dental care you need, stress-free.
What Are the Types of Sedation Dentistry?
Your dentist will typically use one of two types of sedation dentistry:
Inhaled: A mask will be placed over your nose, through which you will breathe nitrous oxide, also known as "laughing gas" because of the euphoric effect it creates. You will still be awake, but in a more relaxed state. Once the procedure is over, the effects of the gas will wear off quickly, allowing you to resume your day soon after your appointment.
Oral conscious: For more severe dental anxiety, oral conscious sedation is recommended. You will take a pill about an hour before your appointment that will put you in a state of deep relaxation. You'll still be awake, but you'll be groggy. For this reason, you'll need someone to drive you to and from the office. You probably won't remember most of the procedure, and the effects of the pill will likely last for the rest of the day.
When Is Sedation Needed?
In addition to people with anxiety, sedation may be beneficial for patients who:
Have a sensitive gag reflex
Can't sit still in the dental chair
Need lots of dental work done in one appointment
Have a low tolerance for pain
Have special needs
Are uncooperative children
Will You Benefit from Sedation Dentistry?
If you experience any kind of dental anxiety, sedation dentistry might be just the thing you need. It will allow you to get the treatment you require without any stress or pain. Most of the time when people fear the dentist, it's because they're scared of pain. Sedation dentistry not only takes your mind off the procedure, it also numbs you up, so you won't feel any discomfort.
If you need dental work done, ask your dentist if they offer sedation. It could allow you to get the care you need without any worries at all.
About the Author
Dr. Colin Holman is a graduate of the University of Oklahoma College of Dentistry. He is trained to offer sedation dentistry and is a member of the Dental Organization for Conscious Sedation. If you frequently experience dental anxiety and live in the Oklahoma City area, don't hesitate to call Dr. Holman's office at (405) 735-6600 or visit his website.