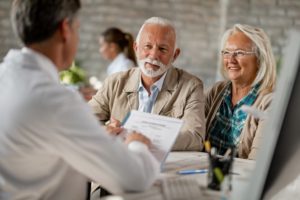 More people have missing teeth than you might think. In fact, about 178 million Americans have lost at least one tooth, and 40 million of them have no natural teeth left. Unfortunately, tooth loss is even more common for people who have diabetes. If you're looking to replace missing teeth, you may have heard about the numerous benefits of dental implants. But are dental implants safe for diabetics? Here's what you need to know about the relationship between diabetes and dental implants – and how you can make your treatment as successful as possible.
The Link Between Diabetes and Dental Implant Failure
There are a couple of reasons why people with diabetes are more likely to experience dental implant failure. One is that diabetics are more prone to infections. The most common reason why dental implants fail is a type of gum disease called peri-implantitis, in which bacteria damage the tissue surrounding the implant to the point where the gums can no longer support it.
Another reason is that diabetics often heal at slower rates than non-diabetics. Dental implant treatment depends on a process called osseointegration, during which the implant post fuses with the jawbone. Ordinarily, osseointegration takes between three and six months, but it can take even longer for diabetic patients. As a result, there is more time for something to go wrong and for the implant to fail.
How to Increase Your Chances of Successful Dental Implant Treatment
The good news is that if your diabetes is well-managed, your risk of dental implant failure is actually comparable to that of someone without diabetes. After all, most of the health risks of diabetes are the result of abnormal blood sugar levels. If you're considering getting dental implants, talk to your doctor first. They can give you advice on getting your blood sugars under good control and reducing the risk of dental implant failure.
Some of the other ways you can increase the chances of successful dental implant treatment include:
Maintaining good oral hygiene – People with diabetes are more likely to deal with dry mouth, cavities, gum disease, and other oral health issues. Brushing and flossing every day can go a long way toward preventing these concerns.
Eating a healthy diet – Limiting your sugar intake will not only decrease your risk of tooth decay, but it will also improve your blood sugars. Make sure to get plenty of calcium and vitamin C, as these nutrients promote a healthy jawbone and gums, respectively.
Seeing your dentist regularly – Routine dental checkups are important for everyone, but especially for patients with diabetes. Your dentist can evaluate you for existing oral health issues, address them as soon as possible, and thoroughly clean your teeth to minimize the risk of infections in the future.
Just because you have diabetes doesn't necessarily mean dental implants are out of the question. If you work with your doctor and dentist, you can have a full smile again before you know it!
About the Authors
At Dental Expressions, Dr. Jon Holman and his son Dr. Colin Holman provide comprehensive, comfortable dental care to families in Oklahoma City and the nearby communities. They partner with a network of dental implant specialists in the area to deliver the high-quality care their patients deserve. To learn more about getting dental implants when you have diabetes, contact their practice at 405-735-6600.