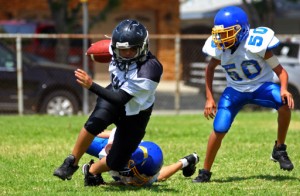 When you're in the middle of a big game – whether it be football, basketball, hockey, baseball or any other physical recreational activity – your mind is on your performance, on your competition, and on achieving victory. Your mouth is likely among the last things you're thinking about while you're playing, but protecting your teeth and gums during heavy activity really does pay off. At Dental Expressions in Oklahoma City, OK, Dr. Frazier and Dr. Holman can help you preserve your smile and general oral health with customized athletic mouth guards. 
Always Be Prepared: Mouth Guards for Sports
Though there are plenty of ways we can protect ourselves from serious injury while engaged in physical activity, it's pretty difficult to always expect the unexpected. An accidental kick to the face or a ball you didn't see flying your way can quickly turn into a dental emergency. Teeth can be knocked out, gums can be perforated by foreign objects and your teeth can easily cut other tissues inside your mouth.
While many children and teenagers who play sports wear a mouth guard during athletic play, the majority of them don't get the level of protection they actually need. This is because generic mouth guards are inexpensive; unfortunately, this also means that they don't perform as well as a customized one.
The Custom-Fit Difference
Custom-fit mouth guards from Dental Expressions are better able to protect your teeth and the soft tissues of your mouth from injury than ready-made guards you find at the sporting goods store. They're modeled to fit your unique dentition and therefore lower your risk of dislodging a tooth, cutting your inner cheek or biting down on your tongue.
If you or your little ones play sports and you want to ensure that your smile is protected from injury, contact us at our Oklahoma City, OK office today and ask about our customized athletic mouth guards. Dr. Holman and Dr. Frazier happily welcome patients from Norman, Moore, Midwest City and beyond. We look forward to meeting you and your family!