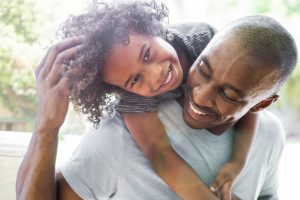 When you think about one of the most precious moments that anyone can cherish, it's when your child looks up and smiles at you. From the moment they're born and you have an affinity for their gummy smile. As their teeth develop, you love to snap pictures of your little one.
Their teeth aren't just for snapping photos for your friend and family to see, they need to be taken care of. Baby teeth are actually the placeholders for their adult smile. Learn more about how to properly care for your child's smile from the time they're infants to when they can hold their own toothbrush!
Caring for Children's Teeth Throughout the Years
Even when you can't see them, baby teeth are beneath the gums and need to be properly cared for. Taking care of your child's smile starts before they even erupt.
Why is it so important? Those little baby teeth are the placeholders for your child's adult teeth to properly grow into. Baby teeth help your child's development with eating/chewing, speaking as they develop. As you can see, it's critical to the future of your child's oral health to have clean, strong baby teeth. Here are the best children's dental care tips:
Infant Dental Care
After each time you feed your baby, be sure to wipe off your infant's gums with a soft cloth, or a soft-bristled toothbrush. There are specific baby toothbrushes that you can purchase to help make cleaning easier. At this point, you don't need to use toothpaste on your child's teeth.
Be sure to take your infant to your family's local dentist by the time they're one year old or have their first tooth erupted.
Toddler Dental Care
This is the time to teach your little one how important it is to care for their teeth. They're still too little to completely brush and floss themselves, but you can help them. Show them the best ways to reach the back of their mouth and be sure to brush for at least two minutes per session.
A helpful tip for toddler dental care is to brush your teeth in front of your child. They'll love acting just like their mommy or daddy.
Child Dental Care
Don't start skipping out on your flossing already! It's important to still help your child understand the best practices when it comes to flossing because this is a critical part of dental care that will keep your teeth strong for years and years.
Kids around this age love being able to make their own decisions, even when it comes to dental materials and tools. Try letting them choose their own dental care tools. They might just look forward to their dental hygiene routine.
The bottom line is that having a smile free of cavities from the time your little one is a baby will help minimize the chances of dental complications in the future.
---
About Our Office
Here at Dental Expressions, we know that caring for you and your family's health takes a team. We're here to help you! Because we love working with little ones, we welcome them with open arms. Kids are precious and their smiles are priceless! Let us help you care for them. Feel free to contact us to schedule a children's dental appointment.