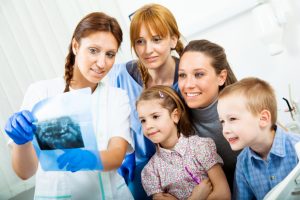 Regular appointments to your dentist twice a year are critical aspects to preventive health, even for young children. Everyone, no matter their age, needs to visit the dentist twice a year for preventive care. However, many parents are usually not too sure when their child needs to see their children's dentist in Oklahoma City for the first time. The American Dental Association recommends children see the dentist for the first time before the age of two. When bringing your child in for the first time, choose a dentist who can care for your entire family.

Why Do Children Need to See a Dentist?
Often, people underestimate the importance of caring for baby teeth because they eventually fall out. However, baby teeth serve an important purpose. The development of healthy baby teeth is vital to allowing a child to learn to eat and speak correctly. Not to mention, they act as place holders for the permanent teeth. The health of the baby teeth can directly cause complications with the permanent teeth as baby teeth set the foundation to a lifetime of oral health.
Children need to see their dentist in Oklahoma City regularly to ensure their baby teeth are developing correctly while also protecting their oral health. Young children are especially prone to developing cavities. With a regular appointment, we can detect cavities while they are still small and even stop cavities before they start. With fluoride treatments and dental sealants, we will ensure your child's teeth stay strong and healthy.
Through a regular examination, we work to ensure your children's teeth and bit develop correctly. With a regular checkup, we can quickly resolve problems while the child is still young to decrease the severity of any treatments in the future.
Why Do I Need a Family Dentist?
When taking young children to the dentist, you need a dentist who specializes in children's dentistry. To simplify how your family receives dental care, choose a family dentist so everyone will benefit from the same dentist under one roof.
A family dentist will provide the comfortable and comprehensive care young children need, while also catering to the unique needs of every other member in your family. Through all stages of life, a family dentist will provide the complete care your family needs at one location.
By having a great dentist by your family's side, scheduling appointments is easy. Not to mention, all your family's dental records will be kept at one location. The dentist you choose will get to know your family over the years to deliver a higher level of care by understanding your family's oral health history. Overall, a family dentist is trusted source to have by your side for the next several years.
Your Family Dentist
At Dental Expressions, we provide complete care for the entire family. We specialize in children's dentistry while also offering the care your entire family needs for healthy smiles. Let us care for your family as we care for our own. Contact our office today to schedule an appointment.