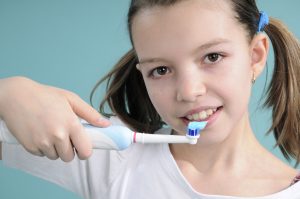 You do your best to protect your child's oral health by encouraging him or her to practice the best dental hygiene. Still, it's a given that there will be deficiencies such as inconsistent brushing and poor technique. One way to make a positive impact is by providing your child with an electric toothbrush. Before you make a purchase, though, your children's dentist in Oklahoma City explains what traits you should be on the lookout for.
What's Different About an Electric Toothbrush?
Before we discuss how to find the right electric toothbrush, let's first take a look at why it's even a consideration. It offers a few advantages that are worth noting:
A More Thorough Cleaning – If you're worried about your child not getting a thorough enough cleaning when brushing, then you'll get more comfort in knowing that the bristles on electric toothbrushes move at a speed of 6,000 to 30,000 strokes per minute, which far surpasses what can be produced with the manual alternative. Thus, your little one will be able to clean his or her teeth much better.
Less Time Required to Brush – It's no secret that kids tend to be a little impatient, so the recommended brushing time of two minutes by the American Dental Association is less likely to be observed if you're not there to monitor your child's efforts. By covering more surface in less time, the electric toothbrush will provide greater peace-of-mind in knowing that your child's teeth are still getting a thorough cleaning.
Accommodates Reduced Motor Skills – It's also common for children to have still-developing motor skills. Thus, it may be harder for them to maneuver the manual toothbrush as needed to get the best cleaning. The electric toothbrush will make for a smoother process as it'll do most of the work.
What to Look for in an Electric Toothbrush
Before making a purchase, here are some things you should consider:
Plaque Removal – If the toothbrush isn't highly effective at removing plaque, then it's not a good purchase. One way to monitor its proficiency is to maintain regular visits to your dentist and receive a plaque score. This number will reflect how successful the oral hygiene efforts have been since the last visit. Thus, you can rate the toothbrush and decide whether it's made a positive impact.
Head Shape and Size – Children's mouths are naturally smaller than adults, so the shape and size of the toothbrush head factors greatly in their ability to clean their mouths well. The right toothbrush head will allow your child to get into the hard-to-reach spaces.
Quality of Bristles – Higher quality bristles can typically be replaced every three months. The lesser the quality, the sooner the bristles will need to be changed. Pay attention to whether they look worn or are leaning to one side or another. Such traits will compromise the quality of cleaning your child gets and could even irritate his or her gums.
The Power Source – To get the most out of your investment, you should consider a rechargeable toothbrush. These types usually provide a higher quality experience than what can be achieved with the battery-operated version.
You're now better-equipped to make a positive impact on your child's oral health by implementing the information you've learned here. If you have other questions, feel free to reach out to your dentist in Oklahoma City to schedule a preventive care visit today.
About the Author
Dr. Colin Holman earned his dental degree from the University of Oklahoma College of Dentistry. Since then, he's been on a quest to improve the oral health of every child he's encountered. Dr. Holman helps parents enjoy greater peace-of-mind by helping their children experience the best oral health at Dental Expressions, He can be reached for more information through his website.