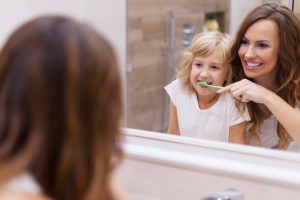 Did you know that February is National Children's Dental Health Month? At Dental Expressions, your children's dentist in Oklahoma City, our team is here to partner with parents in promoting excellent oral health for their little ones. We do this by creating a fun and welcoming atmosphere for our littlest patients so they are excited to come to their dental appointments. Here's what you and your child can expect when you come to Dental Expressions.
The First Visit
We recommend that children come in for their first appointment at the age of two. We call this a "happy visit" and during this time your child will take a ride in the dental chair, have their teeth counted, and meet Mr. Thirsty. This visit is all about becoming acclimated to the dental office and promoting excitement for future dental appointments. By age three to five, your child should be on a regular six-month cleaning schedule.
Sealants and Fluoride
Dr. Colin Holman or Dr. Natalie Frazier will examine your child at every cleaning appointment. They will be looking for any developmental problems or decay so that you can be proactive with conservative treatment for your child. The earlier any issues are spotted, the easier treatment will be for your child.
Your dentist may recommend sealants, which are clear coatings that go over the chewing surface of your child's teeth in order to protect them from decay. Fluoride treatments are also helpful in protecting your child's teeth from decay and strengthening enamel.
Mouth Guards
If your child participates in sports, you may want to discuss with Dr. Holman or Dr. Frazier having a sports guard made. Sports activities can cause damage to your child's teeth, and having a custom made mouth guard is sometimes better than trying to fit a "one size fits all" generic guard from the sporting goods store into your child's mouth.
Lead by Example
Believe it or not, great oral health and excellent home care for your child begin with you, the parent. When your child sees you brushing, flossing and attending regular dental appointments, they will also model the same behavior.
Teaching your child about nutrition and eating healthy foods is also very important for their dental development and overall well being. Monitoring snacking throughout the day and intake of sugary foods and beverages for your child will help prevent decay and cavities, and will set your child up for success at the dental office.
At Dental Expressions, Dr. Holman, Dr. Frazier and the entire team look forward to serving your child at whatever stage they're in. We want to be your family dentist in Oklahoma City, and we believe dentistry can be fun. We look forward to educating your child about their oral health, and helping them maintain it so they will be set up for lifetime of success at their dental appointments. Contact our office today to schedule your child's appointment.