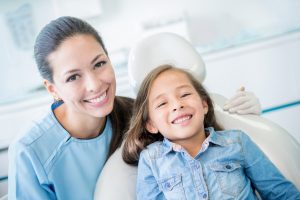 As a parent, your child's health is in your hands—that goes for dental health as well. One of the best things that you can do for your little one's smile is to make sure they visit the dentist regularly.  It's your responsibility to make sure that they have strong, healthy teeth and your children's dentist in Oklahoma City can help you do that.
If you're concerned about the best ways to take care of your children's teeth, you're looking in the right place! The first steps start at home, making your children comfortable with the idea of dentistry and visiting the dentist.
Tips to Make Children's Dental Care Easier
Intermingle Your Routine with Your Child's Routine
Brushing and flossing alongside your child can change their perception they have about taking care of their teeth. As their leading role model, they look up to you—even when it comes to maintaining excellent dental health.
Add Music to Your Child's Dental Routine
It's important that your child is brushing their teeth for the correct amount of time (2 minutes) to achieve and maintain optimal oral health. One way to help make their dental regimen fun is to play a song when they brush their teeth. This way, they brush they whole duration of the song.
Reward Your Child for Good Dental Practices
Positive reinforcement is a great learning tool for kids and will help instill good, consistent dental hygiene practices.  You can get creative with this tip and develop a system that works best for you and your family.
Start Bringing Your Children to The Dentist Early On!
By having your child visit your friendly family dentist, you can gain valuable information about how to practice excellent oral hygiene with your child and have their smile checked on. In fact, they should see their dentist by the time they're one year old.
Here's What You Can Expect from the First Visit
Pediatric dental care keeps primary teeth healthy and free of decay and other dental diseases or other oral health concerns.
You can expect for your little one to receive a comprehensive exam, professional cleaning, and possibly preventive products. You and your child can benefit from the very first appointment in these ways:
Hands-on learning experiences about proper dental care.
Protection against cavities with dental sealants and fluoride treatment.
Thorough head, neck, and mouth examinations to ensure development is going smoothly.
Professional cleanings to remove harmful dental plaque and debris.
---
Meet Our Dental Team
It's a difficult to take care of your whole family's health on your own—that's why Dental Expressions is here to help! Our team of dental experts take the time to know you and your child. This way we can always provide personalized dental care for the people you love the most. If you would like to speak to either of our dentists, feel free to call our Oklahoma City office.