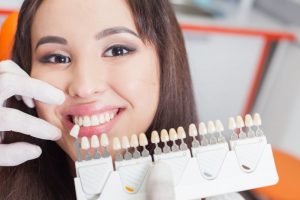 You've been living with flaws in your teeth, and you're looking for ways to make the necessary improvements. Furthermore, you changes that will be both effective and lasting. Is it possible to meet both goals? Your cosmetic dentist in Oklahoma says there is, and as you continue reading, you'll learn 7 ways that porcelain veneers get the job done!
What are Porcelain Veneers?
Porcelain veneers are thin, wafer-like shells that are custom-designed and crafted from high-grade dental ceramics. They are used to mask imperfections in what's called the smile zone (usually consists of six upper and lower teeth).
The process takes two visits to complete and includes the following steps:
The procedure starts with your cosmetic dentist removing a thin layer of enamel to allow the veneers to fit properly.
Next, bite impressions are taken so that your permanent shells can be custom-crafted to match your smile.
The information is sent to a lab that will fabricate your permanent veneers. In the meantime, you'll be fitted with a temporary set to protect your teeth.
When the permanent veneers are ready, you'll be invited back to the office to be fitted. Your cosmetic dentist will also make any minor adjustments needed to ensure you have the perfect smile.
Here are 7 Benefits of the Porcelain Veneer Method
To get a better understanding of why porcelain veneers are an excellent choice for improving your smile, your dentist lists the following benefits:
Faster Treatment – As opposed to orthodontic methods to correct misaligned teeth like braces and Invisalign that can take several months to complete, porcelain veneers produce a revamped smile in just two visits.
Stain Correction – If teeth whitening won't suffice for lifting deeply embedded stains, porcelain veneers are the solution you're looking for. Before the procedure starts, your cosmetic dentist will identify the right shade of veneer to match the color of your other teeth.
Uniform Teeth Shape – Not only do porcelain veneers improve the color of your teeth but will also leave you with an even smile.
Masks Imperfections – If you have minor gaps, cracks, misalignment or crookedness, porcelain veneers provide a way to address these issues and leave you with a perfect-looking smile.
Painless Treatment – In addition to revamping the appearance of your teeth, another advantage of porcelain veneers is that the procedure is painless.
Versatility – The porcelain veneer procedure is one of the few cosmetic dentistry methods that can address a variety of issues with a single application.
Long-Lasting – Properly cared for, your porcelain veneers can last 10 or more years. To see the greatest longevity, be sure to brush and floss your teeth at least two times a day. Also, be sure to avoid eating really hard foods.
Now that you know how beneficial porcelain veneers can be in improving your smile, the next step is to reach out to your dentist in Oklahoma to schedule a visit. With the expert care you'll receive, you'll soon be looking and feeling great!
About the Author
Dr. Colin Holman earned his dental degree from the University of Oklahoma College of Dentistry. He understands the importance of staying current with the latest information in the dental world, which is why he takes well above the required hours for continuing education annually. Dr. Holman helps patients enjoy greater confidence with porcelain veneers, and he can be reached for more information through his website.