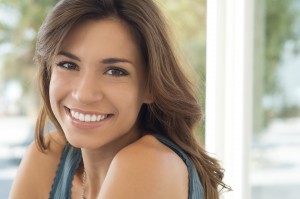 Change your attitude and you can change your life. But how easy is it to change your attitude? Well, you can start by smiling more. Honestly. Research shows that people who smile more are healthier, happier and enjoy life more. A smile can do all that. However, if your smile isn't all that you want it to be, then you may first need to see the cosmetic dentist Oklahoma City turns to for naturally beautiful smiles. At Dental Expressions, we offer a number of cosmetic dentistry services to change your smile and your life.

Teeth Whitening
Did you know that people with a white smile are considered by others to be smarter, more successful and more popular? With this in mind, teeth whitening can be one of the easiest and fastest ways to enhance your smile, boost your confidence, and even improve your life. And while there are plenty of over-the-counter whitening products, nothing beats the professional grade whitening gel you'll receive from your 73170 cosmetic dentist at Dental Expressions. We offer an in-office whitening system that removes stains and discolorations due to foods and beverages, smoking, and certain medications in about an hour. For patients who prefer to whiten their teeth at home, we can provide custom-molded trays and powerful whitening gel.
Cosmetic Bonding
Beyond the color of your smile, the shape and spacing of your teeth also affects the appearance of your smile. If you have teeth that are chipped, broken, misshaped or irregularly spaced, we can use cosmetic bonding to restore your attractive smile. Actually, you may already have some cosmetic bonding material in your mouth and not even know it. Cosmetic bonding uses the same composite resin material that we use to repair a cavity with a tooth-colored filling. During cosmetic bonding, we take the same putty-like material and mold it to reshape your damaged tooth. Once hardened, a tooth with cosmetic bonding looks and performs just like a natural tooth.
Porcelain Veneers
For patients with smiles that are compromised by a number of cosmetic flaws, the best solution may be to cover that smile and reveal a new smile with porcelain veneers. Also called dental veneers or just veneers, these are microthin layers of dental porcelain or composite resin that are adhesively bonded to the facial side of teeth in your smile zone in order to create a brand new smile that has exactly the characteristics you want.
Call Our Office Today
If you're ready to change your smile and your life, then call Dental Expressions and schedule an appointment with an Oklahoma City cosmetic dentist.  Our convenient Oklahoma City location welcomes patients from Moore, Norman, Midwest City, Edmond, and beyond.