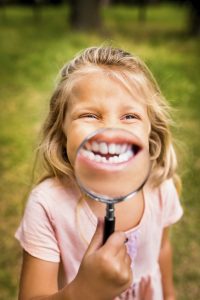 One of the most frequently asked questions among parents in our practice is how can I make sure my kids will always take care of their teeth? Our answer: start early! Oklahoma City Children's dentists Dr. Collin Holman and Dr. Jon Holman recommend getting children accustomed to oral hygiene at home and in our office as soon as possible. An early start can help set your children on the path toward a lifetime of good dental health.
Oral Health During Infancy
When we say early, we mean really early. Even while your baby is only having breast milk or formula, it's important to care for their oral health. Hiding underneath that delicate gum tissue are beautiful baby teeth just waiting to erupt. Cleaning those gums will go a long toward making sure those pearly whites are in a healthy environment. All you have to do is dampen a soft cloth with warm water and gently wipe their gums after each feeding.
Healthy Young Smiles
Once that first tooth appears, it's time to start brushing. Use a child's size brush with soft bristles and brush lightly with water. There's no need to use fluoride toothpaste until they are old enough to spit, which is typically around the age of two or three. As their smiles develop and teeth are side-by-side, you should begin flossing.
Visiting the Dentist
Your children's dentist in Oklahoma City recommends that you schedule your son or daughter's first appointment in our office around the time he or she is three years old. By this age, they are usually able to sit comfortably in the dentist's chair and follow our instructions to open their mouths, swish and spit. And if you've previously brought your children along when you've had an appointment, then they'll be more familiar with the sights and sounds in a dentist's office.
When they are young, checkups consist of a dental cleaning and examination of their teeth and gums. As they grow, we'll likely want to add some preventive measures to help them avoid tooth decay. Fluoride applications strengthen enamel, each tooth's hard outer shell that is the first line of defense against cavities. Dental sealants are plastic coatings that we paint on their molars to create a barrier between their teeth and the bacteria and acids that can cause decay.
Call Your Children's Dentist in Oklahoma City Today
For quality children's dentistry, Oklahoma City parents trust Drs. Holman at Dental Expressions. Contact our office to schedule an appointment for your children.