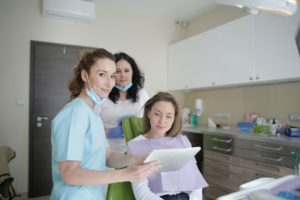 If you're embarrassed by your teeth, you're not alone. At least one-third of adults don't like the way their teeth look, either. Thankfully, you don't need to live with the imperfections. You have more options than ever to achieve a picture-perfect smile; however, one particular treatment surpasses all others. In 2017, 43% of all cosmetic procedures included dental bonding. The convenient, affordable treatment can provide drastic results after just one appointment, but is it permanent? Here's what you need to know to revamp your smile.
What is Dental Bonding?
Dental bonding is a simple elective procedure that offers a lot of bang for your buck. A composite resin material can fix a variety of issues because it provides both restorative and cosmetic benefits. As a result, it is effective in treating several aesthetic and oral health concerns, including:
Tooth decay
Tooth discoloration and stains
Chipped or cracked teeth
Gaps between teeth
Exposed tooth roots
Shorter than average teeth
The resin is customized to match the color of your teeth to blend in with your enamel, so no one will notice it is there. It will look completely natural to instantly boost your confidence. You won't need to worry about an invasive procedure, permanently altering your teeth, or a long recovery. In as little as one afternoon, you can have the smile of your dreams; however, if you want to improve several teeth, you may need more than one appointment.
Is Dental Bonding Permanent?
The resin is durable, so it can last for many years with the proper care. Unfortunately, it won't last forever. Typically, the lifespan is about 5-10 years, but it's not uncommon for it to thrive for a decade or more with the right aftercare. You can promote the longevity of your new smile by keeping a few tips in mind:
Use a soft-bristled toothbrush and nonabrasive toothpaste
Brush your teeth for at least 2 minutes twice daily
Use high-quality dental floss daily
Visit your dentist at least twice a year for a cleaning and checkup
Wear an athletic mouthguard if you play sports
Avoid chewing anything hard or sticky
Keep inedible objects out of your mouth
Don't use your teeth as tools
Invest in an Attractive Smile
Although your results may not last for a lifetime, dental bonding is an excellent choice to invest in a beautiful smile. You'll advantage from quick results using a cost-effective option to revitalize your smile. In fact, it may be covered under your dental insurance depending on your circumstances. Don't spend another day feeling insecure about your teeth. Contact your dentist to get the stunning smile you deserve.
About Dr. Jon Holman
Dr. Holman earned his dental degree at the University of Oklahoma College of Dentistry before continuing his training in advanced treatments, like sedation. He is a member of various professional organizations, including the American Dental Association and the Oklahoma Dental Association. Contact our office today to see if dental bonding is right for you.