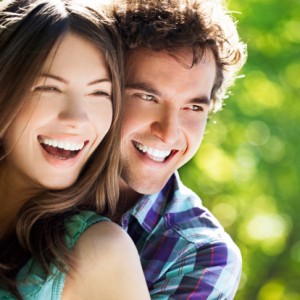 Out of all the cosmetic dentistry services available today, teeth whitening is still one of the most popular – and for good reason! A beautiful, white smile can imply all sorts of positive attributes about you, including success, vitality, confidence, and more; it's certainly a great tool to have if you want to make a good impression in the workplace. Sadly, certain drinks, some medications, and even genetics can leave you with teeth that look dingy or discolored. Our dedicated team at Dental Expressions wants you to have the smile you've always dreamed of; that's why Dr. Colin Holman and Dr. Natalie Frazier offer take-home teeth whitening kits that can provide both dramatic and convenient results.
While over-the-counter whitening treatments may seem effective at first, they can't beat the staying power of the professional-grade bleach you can receive at our Oklahoma City office. Our team will first create a custom-made tray to fit the unique shape of your smile; these trays are designed to hold the bleach as close to your teeth as possible while still keeping out saliva. Then, all you have to do is wear them over a few weeks for the prescribed amount of time in the comfort of your own home! Stains of all kinds have been shown to fade and even vanish with the help of take-home teeth whitening care.
Additionally, we can provide cosmetic bonding or porcelain veneers in the small chance that your stains aren't erased to your satisfaction by our teeth whitening treatment. Our Oklahoma City dental team won't stop until we've found the cosmetic dentistry solution that gives you the smile you want.
Contact our Oklahoma City office today to schedule an appointment with one of our doctors today! We also welcome patients from the OKC area, Moore, Norman, Midwest City, and beyond. We can't wait to make your teeth healthier and happier!