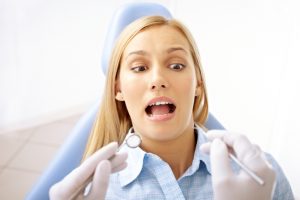 Does the thought of going to the dentist make your palms sweat and your heart race? Dental phobia affects approximately 30 million individuals in the United States. For some, dental anxiety is so bad that they neglect seeing their sedation dentist in Oklahoma City when they should, or they stop going completely, seriously harming their oral health.
Teeth fracture, loosen and even fall out as small dental problems worsen into devastating issues. Facial aesthetics are impacted when oral health deteriorates, leading to gum infections, tooth loss, and jaw bone recession. Studies show a link between poor oral health and systemic health issues such as diabetes, stroke and osteoporosis.
What Causes Dental Anxiety?
Kids through senior adults can fear the dentist, say Dr. Colin Holman and Dr. Jon Holman of Dental Expressions. Fears range from claustrophobia, to anxiety over past bad experiences to overactive gag reflexes. Some patients cannot tolerate the noise and sights associated with medical or dental procedures.
Plus, some individuals have teeth that are very sensitive to pressure or temperature extremes. Children and adults may struggle with sitting still with their mouths open for extended periods of time during complex procedures. Commonly, individuals are embarrassed to have anyone look inside their mouths because the condition of their teeth and gums is so bad.
The Team Understands
Drs. Colin and Jon Holman and his friendly team work hard to make each and every patient feel comfortable and at ease at Dental Expressions. There are no judgemental attitudes at this compassionate dental practice. From gentle oral examinations and hygienic cleanings to restorative care which repairs and replaces teeth to cosmetic services which render great new looks, your sedation dentist delivers healthy smiles that are durable and functional.
Also, each patient is greeted with warmth and respect. The staff listens well and delivers care gently and patiently. Dr. Holman ensures a pain-free, calm experience. Treatments proceed at the patient's pace with time for a "breather," to take a drink of water or to just relax and stretch a bit.
Local anesthesia (pain shots) numbs the treatment site as needed. Other sedation dentistry options include nitrous oxide (laughing gas) and oral conscious sedation (tranquilizers such as Valium or Halcion) which relax a patient–or even allow him or to nap through the treatments. Dr. Holman ensures that any medications are appropriate for the age and medical history of the patient.
Do You Avoid the Dentist?
Please don't. Dr. Holman wants to encourage you that dental care can be a comfortable experience. Contact Dental Expressions in Oklahoma City to arrange a personal consultation and discussion of your oral health needs. You'll be happy at how your fear will disappear and at how wonderful your smile can look and feel!