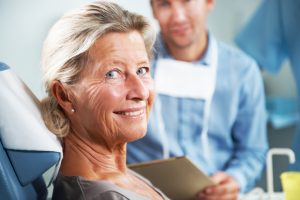 Achieve excellent oral function, smile aesthetics and self-confidence with dental implants in Oklahoma City from OK Dental Expressions. Experts in a variety of preventive, restorative and cosmetic dental treatments, Drs. Colin and Jon Holman place dental implants for healthy patients who have lost teeth to decay, oral injury or gum disease.
Why Pick Dental Implants?
It's simple really. The dental implant is today's premiere tooth replacement. It looks, feels and acts just like a natural tooth. It fills those mortifying smile gaps, strengthens the underlying jaw bone, and prevents loss of gum tissue. Plus, if placed in multiples, implants anchor full or partial dentures or fixed bridgework for beauty and longevity that is absolutely unparalleled.
Fortunately, the dental implant requires no enamel preparation on neighboring teeth as conventional bridgework or partial dentures do. Your natural teeth retain their size, shape, alignment and strength.
Who Can Receive Dental Implants?
Older teens and adults who are in good systemic health and have strong jaw bones qualify for dental implants. Also, people who practice diligent oral hygiene and get preventive care at their dental office do well with implants. Your dentist in Oklahoma City examines prospective implant patients and uses digital X-rays and other modern imaging techniques to arrive at personalized treatment plans.
Details on the Implant Procedure
The implant procedure takes a few visits after the initial consultation. Additionally, patients should understand that healing takes several months.
First, the dentist numbs the area around the tooth and incises the gums. He makes a small hole in the jaw and screws the titanium implant device into the bone. He then sutures the gums closed.
After many weeks of healing, the dentist attaches a metal post to the implant and bonds on a customized porcelain crown. Patience with the necessary healing time is critical to implant success because as the site recovers, the jaw bone fuses to the titanium implant device. This astounding process is called osseointegration. In fact, the Academy of Osseointegration says that the vast majority of dental implant procedures succeed and are retained for decades because human bone and titanium metal meld together so well.
Is the Difference Really Significant?
Dr. Jon Holman and Dr. Colin Holman and their team believe so. While the treatment process is longer than with conventional prosthetics, dental implants truly are worth the time and effort. They rarely need replacement. Contrast this with dental bridgework or partial dentures which typically last no more than ten years or so.
Although they are initially more expensive than traditional tooth replacement choices, dental implants are budget-friendly. Once they are placed, they remain functional and beautiful for a lifetime.
Find out More
If you would like to avoid the health and self-image problems missing teeth cause, please contact OK Dental Expressions for a consultation with one of our expert dentists. You may learn that you and dental implants are a perfect match!