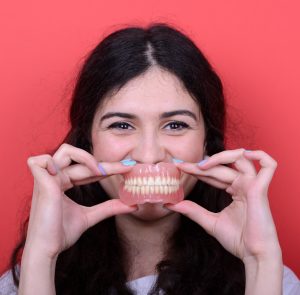 As long as you've been alive you've wanted to be a news anchor for one of Oklahoma City's television stations. But, you haven't always been consistent with your dental care, so now as an adult, you've lost a few teeth. Your dentist in Oklahoma City has informed you of the option of dentures, but you think that is impossible because of your young age. Read further to learn more about dentures, and how they can help you.
Dispelling the Myth on Age
A great myth is that dentures are exclusively for elderly people. The reality, though, is that dentures are for those people who need them. However, this misconception remains and creates two barriers that must be overcome.
The Myth of No Options – Because dentures are commonly associated with an older population, when younger people face the situation of tooth loss, there can be a sense of despair, leaving them to feel like they have no options. This can be quite stressful for people in an age range where they are more self-conscious of their physical appearances.
The Depression Associated with Wearing Dentures – An equally troublesome situation can be the acceptance that dentures are an option. And because of the stereotype of them being exclusive to older people, younger people may experience depression over the reality that they need to take this route.
These two barriers can be overcome by taking an honest assessment of some data available from Louisiana State University Health Shreveport, which shows that 69% of adults between 35 and 44 have lost one or more permanent teeth, and 26% of adults aged 74 are missing all of them. Therefore, you are no anomaly. Other people in your age group have faced this issue and found solutions.
Causes of Tooth Loss in Younger People
One of the primary causes of tooth loss among younger people is gum disease. This is a silent attacker because it doesn't always cause pain. Therefore, it can go untreated until it becomes a bigger problem like tooth loss, as the gums become inflamed and eventually shrink, compromising the root stability of the teeth.
Studies from the Center for Disease Control show that these dental problems more than likely begin in childhood, as only 43% of children between ages 6-11 have dental sealants to protect their teeth against attacks from plaque and gingivitis. When these issues are not addressed early, they can mushroom into tooth loss in adulthood.
The Importance of Proper Dental Care
Although dentures offer an option for younger people suffering from tooth loss, the objective is still to avoid this problem. The best way to offset this scenario is follow the protocol that your dentist has been stressing all your life. That involves brushing and flossing your teeth thoroughly at least twice daily. And along with these practices, you should be visiting your dentist twice a year for cleaning and examination to identify any problems that may eventually lead to tooth loss.
But, if you find yourself needing dentures, just know that it's not the end of the world. You can still maintain your beautiful smile with durable replacements that will allow you to continue living a normal life.
About the Author
Dr. Colin Holman earned his DDS at the University of Oklahoma College of Dentistry, receiving the "Key to Success Award – Mastering the Art and Science of Communication." He is a member of the American Dental Association, the Oklahoma Dental Association, the American Orthodontic Society, the Academy of General Dentistry, and Dental Organization for Conscious Sedation. Dr. Colin practices at Dental Expressions, inviting you to "Contact us!" He can be reached for more information through his website.