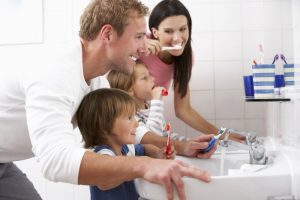 It can be difficult to help you children really grasp why it's so important to take care of their teeth. Most of the time, it's your sole responsibility to properly clean their teeth and gums until their about 8 years old because they simply don't take their oral hygiene seriously and don't have the fine motor skills developed to properly do so.
If you're having a hard time optimizing your child's oral health, this post is for you. Your dentist in Oklahoma City is here to explain how to care for your little one's smile the right way!
Improve Your Child's Oral Health in These Ways
Helping your child learn to love taking care of their teeth is going to play a huge part in their adult smile's and health. Plus, you must make sure their smile is squeaky clean everyday whether they enjoy brushing and flossing or not.
Follow these helpful tips from your children's dentist in Oklahoma.
Brush your child's teeth twice a day – Until they are old enough to do so themselves, be sure to brush your child's smile once in the morning to remove bacteria that festered overnight and once at night to remove leftover food from the whole day.
Floss your child's teeth once a day – Your little one is most likely reluctant to floss, but this is important to keep their gum health in great shape.
Include a mouthwash when they're old enough – If your child is old enough to spit correctly, add an antimicrobial mouthwash to their dental routine for extra assistance with killing bacteria.
Teach them about what happens when you don't care for your teeth – If you show your children photos of diseased mouths and missing teeth, they could be encouraged to take care of their smiles.
Eliminate as much sugar as you can from their diet – You could be saving yourself time, money, and your child from developing serious oral health concerns like tooth decay and cavities!
Trust a Children's Dentist for Assistance
You might feel like you're all alone when it comes to caring for your children's health properly, but that's not true. Your dentist is here to assist you in improving your child's oral health throughout the years—even the one's where they dislike caring for their own teeth. Your dentist can be an extra set of eyes that looks for problems, professionally cleans teeth, and offers more preventive care services like fluoride treatments or dental sealants.
With these helpful tips and tricks and assistance from your dentist, your child will be on the right path to a healthy, long-lasting smile!
---
About Our Office
Here at Dental Expressions, we know that a healthy smile helps to keep the whole body healthy—and your little ones need to start young. Let us help you and your family by scheduling your next visit at our office.