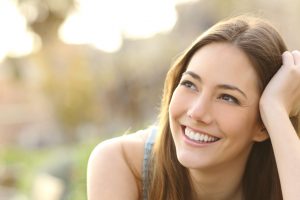 Aesthetic defects such as gaps, chips and deep stains detract from your looks and hurt your self-confidence in social situations. Porcelain veneers from Oklahoma City dentists, Drs. Colin and Jon Colman  could totally transform your smile from dull to dazzling in just two easy visits to OK Dental Expressions. Are you interested in learning more?
What are Porcelain Veneers in Oklahoma City?
Porcelain veneers are whisper-thin shells of natural-looking dental ceramic. Tooth-shaped and shaded to blend in with surrounding healthy teeth, porcelain veneers disguise:
Chips
Small gaps
Mildly overcrowded teeth
Hairline fractures
Discoloration from foods, beverages, smoking, root canal therapy, oral injury and certain prescription drugs
Poorly shaped or sized teeth that look odd next to their neighbors
Dr. Colin Holman and Dr. Jon Holman carefully evaluate patients' smiles and their realistic aesthetic goals as part of comprehensive treatment plans. The dentists create porcelain veneers as just one of many cosmetic dental services available to makeover marred healthy teeth into attractive smiles. And, the dentists have accumulated many hours of continuing education credentials; so you can trust their skills.
The Veneer Procedure
Dr. Holman examines a patient's teeth and gums to determine if porcelain veneers are appropriate for the case.Teeth and gums must be healthy–free of decay, extensive restorations and gum disease. He takes digital X-rays, photos and other modern imaging to formulate the treatment plan.
If doctor and patient decide to use porcelain veneers, Dr. Holman takes an impression of the patient's teeth to send to a trusted outside dental lab. He also removes a very small sliver of enamel, about ½ mm, from the front surface of each tooth receiving a veneer. This painless preparation allows the porcelain veneers to fit comfortably within the patient's mouth.
At the lab, a master ceramist makes a three-dimensional model of the patient's mouth and sculpts each porcelain veneer individually, ensuring shape, size and color are appropriate for the patient's facial appearance, smile dimensions and bone structure. At the next appointment, the dentist bonds the new veneers in place, adjusting for perfect bite and fit. The bonding cement varies the color of the veneers as needed for a natural appearance.
Porcelain veneers combine with professional in-office or at-home teeth whitening, cosmetic resin bonding and other aesthetic services for a smile that's looks like you only better! Refurbished teeth require simple brushing and flossing every day and the usual semi-annual exams and cleanings at OK Dental Expressions. With good care, porcelain veneers last for many years and even make teeth more durable.
Would You Like a Better Smile?
Who wouldn't? So, pursue the smile of your dreams by consulting the professional team at OK Dental Expressions.  The dentists anticipate maintaining your oral health and creating your exceptional smile. Contact OK Dental Expressions for your personal consultation.