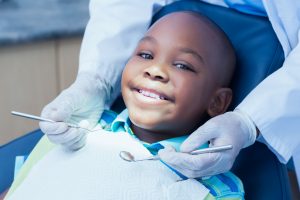 Just like getting in the bath and eating their veggies, kids don't necessarily enjoy dental care. That's understandable. It's not the most interesting thing to do compared to playing with action figures or stuffed animals. But, that doesn't make it any less necessary. If anyone knows about making dentistry interesting, it's Dr. John Holman, your dentist in Oklahoma City. Dr. Jon Holman is an accomplished dentist that intrigued his own family to care and become passionate enough about dentistry that his own son, Dr. Colin Holman also works in the Dental Expression practice alongside him. This father-son duo has the fun tips you need to get your children engaged and interested in taking care of their teeth and gums.
1.    Let your child choose their own tools.
As a parent, you want to make this process as enjoyable as possible for both you and your child. By letting your son or daughter get involved in the process from beginning to end—even from purchasing their personal tooth brush and choosing their preferred flavor of toothpaste—they will most likely be more intrigued. Let your children choose their own kiddy toothpaste that's enriched with fluoride to keep their baby teeth healthy.
2.    Show proper dental techniques on their favorite stuffed animal.
Your son or daughter most likely has a favorite toy that he or she brings with them everywhere, right? By practicing proper techniques on their favorite stuffed animal, your little one will have the opportunity to feel connected with the cleaning process. You can even have them practice on their toy themselves. They're most likely to stay engaged when they're learning and playing at the same time.
3.    Incorporate music in your dental routine.
The American Dental Association recommends that you brush your teeth for at least two to three minutes to remove plaque and bad bacteria effectively. This can be hard for kids to measure. Even brushing for two to three minutes for an adult seems like a long time! You can make it easier to keep track of time by playing a song that it about the same length while brush. Kids can get really into brushing their teeth this way, even dancing and humming as they massage their teeth and gums!
4.    Make flossing easier for your child.
When your child is ready to be more independent with brushing and flossing, you can start just supervising instead of assisting. After instilling a good brushing and flossing routine, some children may be faced with the challenges of orthodontic treatment. Help your little one floss easier, more effectively, and have more fun with a Waterpik flosser for kids. It's perfect for children who have braces or who struggle with flossing.
5.    Take your child for regular dental visits!
Sometimes, kids just don't like to listen to their parents! It's unfortunate, but Dental Expressions is here to assist you. A dental office may not be initially inviting to a child, but we teach brushing and flossing techniques in a fun, entertaining way! We can also give parents tips and tricks to make brushing and flossing at home more engaging and easy. Not only that but after consecutive visits with the same family dentist in Oklahoma City, your child will become more comfortable. Eventually, we will build a trusting, friendly relationship with your son or daughter, making each appointment run smoothly.
We understand the importance of maintaining your family's health. Your child's mouth plays a big part in their overall health. When you need a gentle dental team to care for your littlest smiles, contact Dental Expressions. We're here to help you guide your children to optimal oral health.