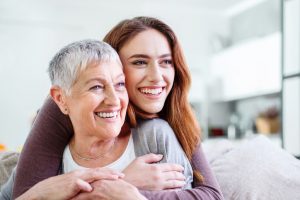 Although your teeth are designed to last for a lifetime, poor dental hygiene, trauma, and other issues can lead to tooth loss. As your smile becomes incomplete, your quality of life starts to decline as you can no longer enjoy your favorite foods, speak clearly, or smile confidently. You have probably tried dentures in the past to replace your missing teeth, but quickly found they do not feel or function naturally. You still have dietary restrictions and you live with slipping and irritation. Now, you can choose an option that closely looks and functions like natural teeth with your dentist in Oklahoma City. At OK Dental Expressions, we offer implant secured dentures to complete your smile.

What are Implant Secured Dentures?
Implant secured dentures are the most predictable and reliable form of tooth replacement. They feature prosthetic teeth that are similar to traditional dentures. However, instead of them being held in place by a metal framework or denture adhesive, dental implant posts anchor them to the jawbone.
With dental implant posts surgically placed into the jawbone, they will last for a lifetime while being the only option to offer over a 95% success rate. In addition, they closely look and function like natural teeth because your jawbone will fuse to the implant posts to create a secure foundation. This allows you to enjoy an increased biting force of over 70% when compared to traditional tooth replacement options. They are also the only solution to stop decreased bone density to protect your facial structures.
How Do Implant Secured Dentures Work?
If you are ready to replace your missing teeth with dental implants in Oklahoma City, you will need to schedule a consultation with OK Dental Expressions. After determining that you are a candidate, we will create a comprehensive treatment plan.
That plan will also include deciding which type of implant secured denture to use: bar-retained or ball-retained. Bar-retained use a thin metal bar that accommodates the curve of your arch to attach two to five dental implant posts. Clips are fitted to the bar, securely attaching the denture in place.
Ball-retained dentures use a metal attachment that is anchored to each dental implant post, which fit into sockets on the denture to hold it in place. Both are effective forms of tooth replacement, but we will help to determine which will work best for you.
What Can I Expect During the Implant Process?
The dental implant posts will be surgically placed into the jawbone. Often, they are placed toward the front where the bone density is thicker. Over the course of the next few months, your jawbone will fuse to the posts. After adequate healing has occurred, you will require a second minor surgery to expose the top of the posts. The supporting bar is also attached. A couple of weeks later, your denture will be put in place to complete your smile.
Where is a Dentist Near Me?
If you are ready to regain a complete smile with implant secured dentures, contact OK Dental Expressions today to schedule your consultation.