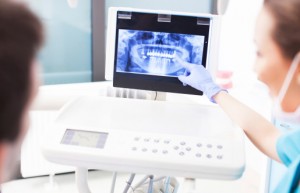 X-rays are a vital diagnostic tool used to inspect and assess the health of your teeth and jaws at each of your routine dental visits. Though traditional film x-rays have been trusted for decades to provide dentists with an inside perspective of your oral health, modern technology has allowed us to go even further with digital radiography, or digital x-rays. At Dental Expressions in Oklahoma City, OK, Dr. Colin Holman and Dr. Natalie Frazier offer a wide variety of highly advanced technological advantages to our patients, including digital x-rays.
Benefits of Digital X-Rays at Your Dentist's Office
There are many benefits of digital x-rays as compared to conventional film x-rays. Whereas typical film x-rays required the use of developing materials and a considerable length of time (during which the patient had to wait for results), digital x-rays are immediately available for viewing on a convenient chairside monitor. You and your dentist can go over the x-rays together, allowing you to gain a better understanding of your oral health as well as your treatment plan.
In addition, digital x-rays are better for the environment and emit up to 90 percent less radiation than regular film methods. This means that you and your family enjoy enhanced convenience, less time spent at the dentist's office, and better health overall.
Schedule Your Visit Today
Has it been more than six months since you last visited the dentist for a routine checkup and cleaning? If so, it's time to schedule your appointment and see the difference that our unique approach can make for you! Contact our office in Oklahoma City, OK today and speak to Dr. Holman, Dr. Frazier, or any member of our caring, experienced staff. We are always happy to answer any questions you may have, whether they are about our office's technology, our menu of services, or your oral health in general. Our conveniently located practice happily welcomes patients from throughout the OKC area, including Norman, Moore, Midwest City, Del City, and beyond.