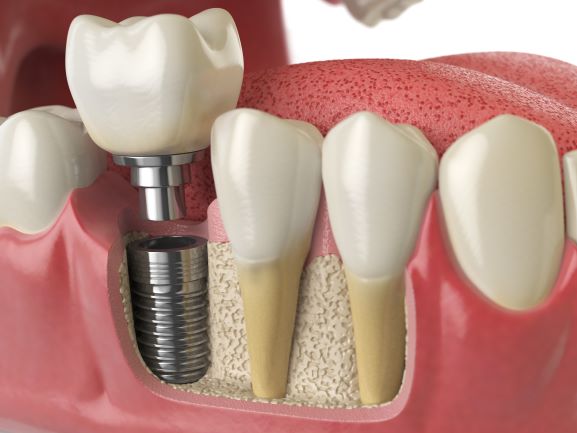 A dental implant restoration gives back to the patient the things that time, lifestyle factors, or medical conditions have taken away. Modern Implant materials and techniques are considered state-of-the-art in the dentistry profession. Despite these facts, many who could benefit from dental implants hesitate because of worries about pain or discomfort. But are their concerns overblown? Let's see.
How the Dental Implant Process Works
The first step in getting a dental implant is to see your dentist. He or she will examine your teeth and gums and discuss your restoration goals with you at that time. Should the two of you agree that implant therapy is the way to go, then this is what you can expect next:
You will be scheduled for dental surgery, during which an implant dentist will place the restoration itself. You will receive anesthetic throughout the procedure to ensure your comfort.
Full recovery time from this the initial step usually take 3 to 4 months. Over this period, you may experience some degree of swelling and discomfort. Usually, the symptoms can easily be managed by applying ice, rinsing with warm salt water, or taking an over-the-counter pain reliever. Prescription painkillers are rarely needed.
The next step is to receive an addition to the initial implant called an abutment, which will serve as the foundation for an artfully crafted ceramic tooth. In some cases, your dentist may recommend a set of implant-supported dentures, which can restore an entire row of teeth all at once.
Once the final restoration is in place, you will be able to eat all your favorite foods, enjoy an active social life, participate in vigorous physical activities, and do all the things you used to do before tooth loss.
"About the Same as Having a Tooth Pulled"
That's what most implant recipients say when asked about the level of discomfort involved with receiving dental implants. This is important food for thought, given that an extraction is never the ideal form of treatment. Here's why.
Like a Row of Dominoes
If you've ever watched a row of dominoes fall one after the other, then you already have a good idea of what can result from even a single missing tooth. The remaining teeth are subjected to continuous and unnatural lateral stresses. In time, this can lead to more lost teeth and prolonged suffering on the patient's part. Dental implants were created to address this problem.
Properly placed implants offer advantages that options such as crowns, bridges, and dentures cannot match. That's why they are the treatment of choice for dental patients who understand the advantages implant therapy offers.
A fully informed patient is a critical part of a positive treatment experience. You should never hesitate to talk to your dentist about any concerns you may be having. He or she will be glad to further explain the benefits of implants and answer any questions you may have. Why not make your initial appointment today? You have nothing to lose and a whole new life to gain.
About the Author
Dr. Colin Holman earned his DDS degree from the University of Oklahoma College of Dentistry before opening his private practice here in Oklahoma City. Dr. Holman is a proud member of the American Dental Association and the Oklahoma Dental Association. You can reach his office online or by calling (405) 735-6600.