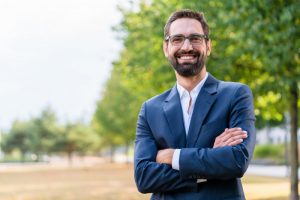 Have you noticed how celebrities like Morgan Freeman, Demi Moore, and George Clooney have perfect teeth? The secret to their movie-star quality smile and many others is a cosmetic dental procedure called porcelain veneers. These have been around since 1928, when Californian dentist Charles Pincus created them to perfect the smiles of actors about to be on the big screen. Over time, they've become more permanent, more natural looking, and more available to everyone. If you have noticeable imperfections in your teeth that are keeping you from your fairy-tale smile, porcelain veneers might be for you! But even though they are renowned for creating durable, beautiful, and flawless smiles, are they too good to be true? Learn more about how porcelain veneers in Oklahoma City work and how they can give you a beautiful, natural-looking appearance for years to come.
How do Porcelain Veneers Work?
Porcelain veneers are wafer thin, yet incredibly strong shells of dental porcelain designed to look like your ideal tooth in size, shape, and color. A small amount of enamel is removed from the front of your tooth to make room for the veneers. Once your tooth has been prepared, the veneer is permanently affixed to the front of it, protecting the tooth underneath and giving you a revitalized smile.
Veneers are perfect for covering up cosmetic imperfections like stains, chips, cracks, oddly shaped dental structure, and gaps between teeth. They offer a more realistic, lifelike solution than dental bonding and aren't as invasive as a dental crown.
Do Porcelain Veneers Really Look Natural?
Do you ever get distracted watching Tom Cruise or Jim Carrey because their teeth look fake? If anything, you might have been stunned by how perfect they look! That's because porcelain veneers are well-known for how natural they look, thanks to:
Dental porcelain's ability to reflect light the same way natural teeth do.
The variety of shades available, so they can seamlessly match the rest of your smile.
How well gums and surrounding tissues tolerate dental porcelain.
Do Porcelain Veneers Need Special Care?
Even though they can drastically improve your smile, porcelain veneers don't require any special care! However, that doesn't mean you can just stop taking care of your teeth altogether. Cavities and gum disease can both cause difficult and expensive problems for teeth with porcelain veneers. Care for your veneers by:
Brushing twice a day for two minutes to reduce the risk of cavities and gum disease.
Avoiding dark-colored foods and drinks that can cause discoloration around your stain-resistant veneers.
Seeing your dentist regularly to catch any issues as early as possible
Once upon a time, flawless smiles were only found in Hollywood. These days, anyone can have a beautiful, natural-looking grin with porcelain veneers!
About the Author
At Dental Expression in Oklahoma City, OK, we are dedicated to your comfort and safety while helping you achieve a happy, healthy smile. We know that every patient is different, which is why Dr. Colin Holman, Dr. John Holman, and the rest of our friendly staff will take the time to get to know you and understand your personal oral health goals. With the most advanced dental technology and a variety of cosmetic services, including porcelain veneers, we'd be happy to help you create the smile you've always wanted. If you have any questions, we can be reached at our website or at (405) 735-6600.