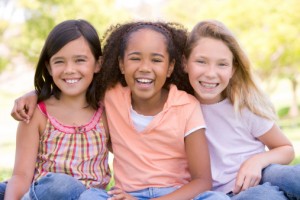 Millions of Americans each year report experiencing dental anxiety or fear, and more than 50% of those patients point to a bad childhood dental experience as the cause. At Dental Expressions of Oklahoma City, we make the comfort and safety of every patient a priority, but creating an environment where children feel safe and at ease is especially important to us. Your child's early dental visits and care lay the foundation for future oral health. Let Dental Expressions set your child on the right track for a lifetime of dental health. Call to schedule an appointment today.
Best Children's Dentist, Oklahoma City
Our dentists, Dr.s Colin Holman and Natalie Frazier will make every appointment fun for your child, provide excellent preventive care, and conservative restoration treatments. Dr. Holman has his BS in Zoology, and can entertain your child with fun, fascinating stories of his animal adventures while he offers them excellent dental health care, and Dr. Frazier's kindness and dedication to patient education will prepare your child for a lifetime of excellent oral health care. Our dental team strives to make every patient feel at home. From the moment your children arrive, they will be made to feel as special as they are. We'll greet them by name, offer them a beverage and let them pass their short wait time in our special kid zone. On their first visit, we'll take your child on a tour of the office so he can get used to the sights and sounds of dentistry, and meet all his new friends at Dental Expressions. Our comfy dentist's chairs with TV monitors will help your child feel right at home.
Superior Children's Dentistry Service
We provide your child with outstanding children's dentistry services to make every visit fun and effective. We encourage our families to bring their children in for their first dental checkup no later than age two. By the time children reach age two they typically have quite a few of their primary teeth for us to examine, and are able to interact with the dentist and understand their surroundings and care. If you have any concerns, please bring your child in earlier so we can help you plan to improve your child's dental health care right away.
Primary teeth and new adult teeth need extra attention and care because they are not as strong as permanent, adult teeth. At Dental Expressions, we care for your child's strengthening teeth by offering fluoride treatments which draw minerals in to strengthen and support teeth. If your child struggles with tooth decay, we will provide dental sealants to protect teeth from further decay.
Choose us for Your Child's Dentists, Oklahoma City
Don't trust just any dental practice with your child's dental health future, bring her to Dental Expressions of Oklahoma City where we make your smile our top priority. Whatever your dental health care needs, we are always here to help. Call our friendly staff to make an appointment today. Our convenient Oklahoma City location welcomes patients from Moore, Norman, Midwest City, Edmond, and beyond.