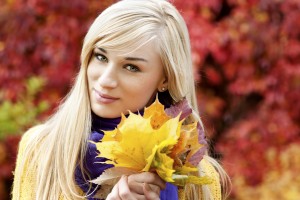 In just about a week and a half, we'll have reached the first day of fall. What that means for all of us in Oklahoma City and around the country is cooler weather, shorter days, and beautiful fall colors. It also signals that 2012 is mostly behind us now; the holidays will be here before you know it. That makes now a great time to schedule your fall checkup.
Enjoy a Healthy Smile This Holiday Season
We all want to enjoy the holiday season. And a key part of enjoying the holidays is having the freedom to comfortably enjoy the great foods that come with Halloween, Thanksgiving, and the Christmas season. That's a more difficult thing to do, though, when you don't know how your smile's doing.
But that's exactly what you can find out during a fall checkup with Dr. Frazier or Dr. Holman at Dental Expressions in Oklahoma City. During your visit, our team will thoroughly assess your oral health, perform a professional cleaning, and recommend any services that we think might be helpful for you.
Some of those services may be preventive or restorative—you may need a filling, for instance—but others might be cosmetic. Wouldn't you love to share a whiter, straighter, more shapely smile with your friends and family this year? We have services that can help.
Are you ready to schedule your fall checkup with Dental Expressions and Dr. Frazier or Dr. Holman? Call our Oklahoma City dental office today to schedule your appointment. Our OKC team is always ready to help.