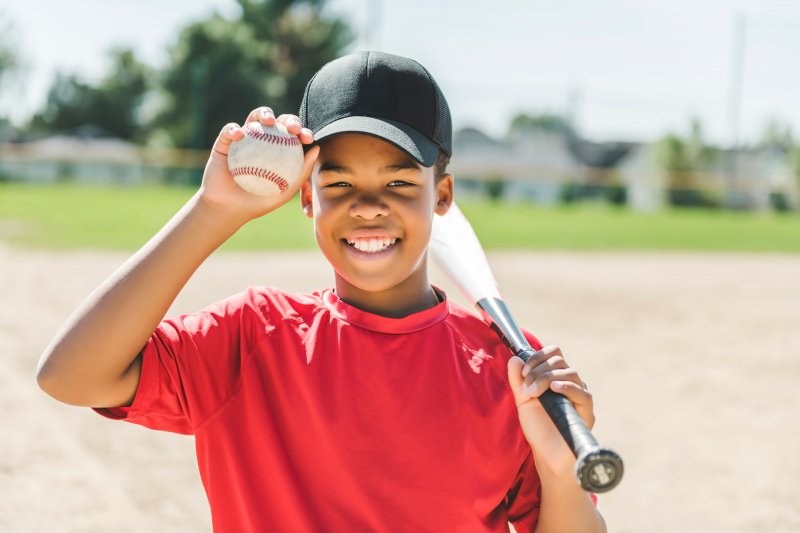 Sports and teeth have had a tumultuous relationship over the years. You love your child's smile, and chipping, cracking, or loss of teeth can affect your kid's eating and speaking in a way you'd rather avoid. A sudden shock could even cause the teeth to injure the lips, cheeks, or tongue. An estimated 30 million kids play sports every year, and it's not unlikely that your child will be among them. What can you do about the risks?
Luckily, a dentist-made custom mouthguard is a great way to manage the risk that comes with much-needed physical activity.
Which Sports Require Mouthguards?
Any respectable league for a contact sport like football, ice hockey, or lacrosse will absolutely require that children wear mouthguards. However, a child should wear a reliable mouthguard for any type of contact or non-contact sport. Running around inherently comes with some risk of facial injury. Athletes all too often take elbows to their faces while playing supposedly non-contact sports like soccer. Mouthguards are great at keeping jaws, teeth, tongues, and the rest of the mouth safe during intense play.
What Kind of Mouthguards Are Available?
When you think of getting a mouthguard, you might first think of a store-bought variety. Cheap, one-size-fits-all stock mouthguards are not the best because they fit poorly and can make breathing and talking difficult.
Boil and bite mouthguards are generally better than the stock varieties. These come in an inexpensive kit that lets you boil the guard at home and bite into it for a custom fit. However, they are still bulky and can interfere with breathing and speaking. They require frequent replacement. Mistakes in the shaping process can leave them fitting poorly and lacking in protection.
The best option for your child is a custom-fit mouthguard from your dentist. While they are more expensive, they can be trusted to fit properly, last a long time, and offer the best protection. They even work around braces. The investment can even save you time and money by protecting your child from expensive sports injuries.
What Care Does a Mouthguard Need?
Mouthguards require similar care and maintenance as other dental appliances. Some good habits are:
Remove plaque and particulate matter by rinsing in cold water and brushing with toothpaste.
Soak it in non-alcoholic mouth rinse prior to cleaning.
Keep it in a rigid case to protect it during transport.
Avoid heat that could cause warping.
Keep an eye on it to keep abreast of any damage.
Your family dentist is the best source of information about getting your child a good mouthguard. Children's sports are supposed to be fun and keep children healthy. Mouth injuries get in the way of both of those goals. When your kid wears a mouthguard, it provides protection against many threats to a good time on the field.
About the Author
Dr. Colin Holman received the "Key to Success Award – Mastering the Art and Science of Communication" while earning his Doctor of Dental Science at the University of Oklahoma College of Dentistry. He leads Dental Expressions to provide the best, safest, and most comfortable dental services in Oklahoma City, including custom mouthguards, regular examinations, restorative dentistry, dental prosthetics, and more. Contact his office online or dial (405) 735-6600.