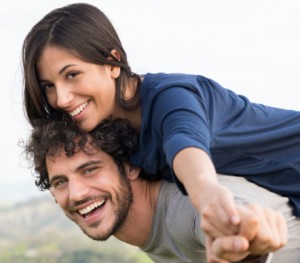 Avoiding care due to the fear of going to the dentist ultimately results in dental problems. A recently study conducted by Deakin University researchers discovered a link between depression and poor dental health. Dr. Colin Holman and Dr. Natalie Frazier at Dental Expressions in Oklahoma City, OK are on a mission to provide a full range of services while reducing patient anxiety in a comfortable and friendly environment.
Researchers "… found almost two thirds of participants reporting depression (61 per cent) also reported having an aching mouth in the past year and more than half (57.4 per cent) considered their teeth to be in fair or poor condition." In addition, it was noted that "… the more dental conditions one had the greater the severity of their depression."
Whiter Teeth Impacts First Impressions
According to the "The Impact of Whiter Teeth on Key First Impressions" study, commissioned by Crest Whitestrips, improving the overall appearance of teeth influences how other people view you. "Dr. Dacher Keltner, smile psychologist and Professor of Psychology at University of California at Berkeley [reports], 'Visible from 200 feet, it is the intense focus of what other people look at, and a sign of our warmth, confidence, and health.' "
Dr. Holman and Dr. Frazier are positioned to help their patients achieve overall oral health. While preventative dental care keeps ahead of any issues, they also offer cosmetic dentistry:
professional-grade teeth whitening (in-office whitening and custom-fitted trays for home use),
porcelain veneers (to correct awkward spacing or gaps between teeth, chips and cracks, stains that don't respond to teeth whitening and misaligned or misshapen teeth), and
cosmetic bonding (a tooth-colored resin applied to the tooth).
Schedule an Appointment Today
Combining cosmetic dentistry with regular preventive care to obtain optimum oral health will assure you always look and feel (physically and emotionally) your best. Located in Oklahoma City, OK, the doctors at Dental Expressions serve patients from throughout the surrounding areas, including Midwest City, Moore, Norman, and beyond. Please contact our office today to arrange a consultation to personalize services, which will meet your needs.