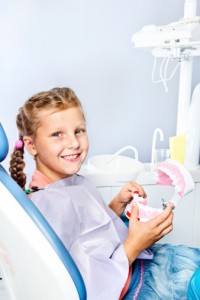 Every year in February, the American Dental Association celebrates National Children's Dental Health Month. At Dental Expressions in Oklahoma City, OK, Dr. Colin Holman and Dr. Natalie Frazier observe the annual event as well, emphasizing the importance of quality dental care beginning at a young age. Our comprehensive menu of children's dental services keep your child's teeth and gums looking and feeling great, building a strong foundation for lifelong oral health.
We Love Your Child's Smile!
When kids are young, their minds are like sponges; they take in the world around them and learn how things work at an appalling rate. This is among the many reasons that it's so important to introduce them to the world of oral health and hygiene as early as possible – an ideal time is typically around two years of age. When your child comes in for his or her first visit to Dental Expressions, we'll provide a fun, engaging and welcoming experience that sets the tone for pleasant appointments in the future.
Aside from examining and cleaning your child's teeth and gums, we'll look for any signs of decay or other problems and provide corresponding treatment as necessary. Fluoride treatments are extremely useful for fortifying young, newly developed teeth and sealants help protect against cavities. If your child plays sports, we can even create a custom athletic mouth guard to defend against injuries while they play. Our goal is to preserve your child's precious smile and to get them excited about their dental health!
Protect Your Kids' Pearly Whites
Though keeping your child's teeth healthy and strong is a priority all year round, we think that National Children's Dental Health Month is an ideal time to get a great start for 2014. Contact our office in Oklahoma City, OK today to find out how our caring, compassionate team can help protect and preserve your child's smile with our comprehensive children's dentistry services. We also proudly serve families from throughout the surrounding communities, including Norman, Midwest City, Moore and beyond. We look forward to giving your little ones something to smile about!