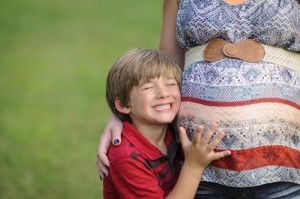 You're having a baby! Pregnancy a wonderful time of life. To really enjoy it, and to have a healthy baby, be vigilant about your oral health. What goes on in your mouth affects your unborn little one's development and health, too. Drs. Colin and Jon Holman at Oklahoma Dental Expressions help young moms achieve best oral health throughout their pregnancies.
Oral health affects your baby
It's a terrible myth that a mom loses one tooth per baby because diligent dental care from your Oklahoma City family dentist promotes strong teeth and vibrant gums. At-home oral hygiene–twice daily brushing and daily flossing at a minimum–help remove the plaque and tartar which harbor toxic oral bacteria.
However, without professional care and home hygiene, tooth decay settles into enamel, and gums infect and inflame. Add to the mix the pregnancy hormones, estrogen and progesterone. These vital bodily chemicals fuel mild gum disease in pregnancy women, causing what dentists call "pregnancy gingivitis." Left untreated, gingivitis progresses to periodontitis, a serious condition that destroys gums and bone and even impacts systemic health.
In addition, some pregnant women develop pregnancy tumors on their gums. Red, puffy and uncomfortable, these benign lesions also originate in hormonal fluctuations. While some pregnancy tumors disappear by themselves, many need excision by the 73170 family dentist.
Finally, that oral bacteria triggers prostaglandin production, a precipitating factor in pre-term labor. Lesson learned here is keep plaque and tartar out of the gum line so it does not enter mom's bloodstream and trigger labor. Pre-term labor is fraught with serious health threats to mother and baby both, including low birth weight.
What your Oklahoma City family dentistry advises
For best oral health during pregnancy, brush and floss as previously mentioned. Eat a nutritious, low fat, high dairy diet, and drink plenty of water to remove plaque and stimulate saliva production.
Then, come to Oklahoma Dental Expressions during each trimester of your pregnancy. The Oklahoma City family dentist will perform a comprehensive oral exam and hygienic cleaning during the first 2 trimesters and an abbreviated exam during the last trimester.
Moms should postpone x-rays and elective procedures, such as porcelain veneers or teeth whitening, until after pregnancy and breast-feeding. However, always get help for dental emergencies, such as tooth abscess, right away. Fillings or other important restorative procedures are best reserved for months 4 through 6 of your pregnancy.
Are you having a baby?
Take good care of yourself and your baby by taking good care of your teeth and gums. Contact the team at Oklahoma Dental Expressions for a routine dental appointment, and keep smiling! Your new little one will be here before you know it.