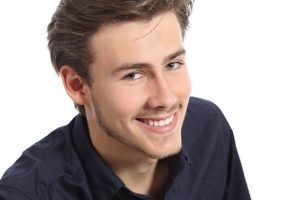 A bright, beautiful smile is easy to achieve with porcelain veneers in Oklahoma City. Those thin little pieces of porcelain that your dentist fits over the fronts of your teeth can disguise discoloration, cracks, chips, gaps, and more. But your veneers aren't a fix-it-and-forget-it solution. You need to take care of them so they last as long as possible. Here are some tips for keeping that radiant smile at its best.
Be Diligent About Brushing and Flossing
Just like your natural teeth, veneers are vulnerable to everyday wear and tear. Your toothbrush and floss are your smile's best defenses against the stresses of life. Brush your teeth for two minutes at least twice a day, and floss at least once a day. Choose a non-abrasive toothpaste so you don't accidentally scratch the veneers.
Maintaining good oral hygiene habits will protect your natural teeth as well; it's less likely that you'll develop problems that will require your dentist in Oklahoma City to remove the veneers in order to care for your pearly whites.
Stay Away From Foods That Could Break the Porcelain
Some people enjoy chewing on ice, but that's a no-no if you have veneers. Hard substances may break the porcelain. Here are some other foods you need to be cautious around:
Hard candy. You can choose to suck on this, but it's best to avoid it altogether because the sugar is bad for your teeth.
Apples. If you're craving a crunchy apple, slice it up first so you don't have to use a lot of force to break off bite-size pieces.
Bone-in meats. Be careful that you don't accidentally bite the bone.
Limit Foods and Beverages That Could Stain Your Veneers
Porcelain is naturally resistant to stains, but that doesn't mean it won't discolor at all. Coffee, tea, wine, and dark fruits all have the potential to stain your gorgeous new smile. However, you don't have to stay away from these things entirely. Enjoy your favorite dark beverages with a straw to minimize contact with your teeth, and brush soon after you indulge in anything that could cause staining.
Also, be sure you avoid tobacco because it is another substance that can easily discolor your veneers.
Visit Your Dentist Twice a Year
After you receive porcelain veneers in Oklahoma City, be sure to visit your dentist at least once every six months for a cleaning and checkup. Your dental care provider will examine both your natural teeth and your veneers and alert you to any issues before they develop into big problems. Your dentist will also let you know when it's time to replace your veneers and refresh your smile.
Caring for your porcelain veneers is easy if you follow the above tips.
About OK Dental Expressions
Drs. Colin and Jon Holman lead the team of professionals at OK Dental Expressions. They provide general and cosmetic services to help their patients have healthy, attractive smiles. If you have questions about veneers or anything related to oral health, reach out to our office at 405-735-6600.