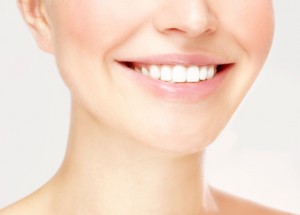 Nationwide and right here at home, porcelain veneers are among the most popular cosmetic dentistry procedures. And for good reason. These natural looking tooth coverings are a single treatment that can change your smile in many ways. Let's take a look at some of the ways your smile can be enhanced with porcelain veneers in Oklahoma City.
Porcelain Veneers Can Correct the Shape of Your Teeth
There are many factors that affect the appearance of your smile. One of them, of course, is the shape of your teeth. While everyone's teeth are shaped slightly differently, some people have teeth that are obviously misshapen for their smiles. Dr. Colman is an expert at designing dental veneers in Oklahoma City that make your teeth more shapely and symmetrical.
Correct the Size of Your Teeth with Dental Veneers in Oklahoma City
Sometimes, our permanent teeth erupt and they are either too big or too small. Therefore, your smile may not look proportional within your mouth or to the rest of your face. Veneers can make teeth the perfect size. Especially if your teeth are smaller that you'd like them to be, porcelain veneers may the perfect solution.
Hide Imperfections with Porcelain Veneers
Perhaps the most recognizable advantage of veneers is that they can conceal a number of smile flaws. For example, if your smile is marred by chipped or broken teeth, Oklahoma City cosmetic dentist Dr. Colman can properly design veneers to cover up these imperfections that otherwise detract from your smile.
Similarly, porcelain veneers can disguise stains and discoloration. If you've tried teeth whitening but have been unsuccessful, then you may want to consider veneers. Whether your teeth are stained because of too many cups of coffee, excessive tobacco use or medication, radiation or chemotherapy, dental veneers will completely cover your natural teeth so your new smile looks white and bright.
Straighten Teeth with Porcelain Veneers
Finally, some smiles have teeth with wide gaps between them or crooked teeth. Rather than deal with the time and expense required of orthodontic treatment, porcelain veneers can correct these imperfections after only two visits with the cosmetic dentist in Oklahoma City. Veneers will hide the gaps and make slightly crooked teeth appear straight.
Call OK Dental Expressions for Porcelain Veneers in Oklahoma City
To learn more about what porcelain veneers can do for your smile, schedule an appointment with Dr. Colman at Dental Expressions in Oklahoma City.