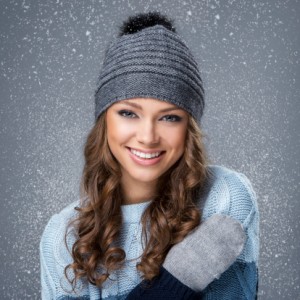 If you're not fully satisfied with your smile, there's a good chance that you have more than one complaint. Therefore, you need a cosmetic dentistry solution that can address several problems at once. If you're not satisfied with the color, shape, or spacing of your teeth, you should explore the porcelain veneers cosmetic option. Porcelain Veneers are incredibly versatile and can address many cosmetic dental issues. They're made of thin ceramic shells that can cover and repair your cosmetic imperfections. Porcelain veneers are long lasting and naturally looking. To get the bright and confident smile you've always dreamed of, make an appointment today to see the experienced cosmetic dentists at OK Dental Expressions. Dr. Holman and Dr. Frazier proudly restore smiles throughout Oklahoma City, OK, Moore, Norman, Midwest City, and nearby communities.
What Cosmetic Dental Problems Can Porcelain Veneers Fix?
Crooked teeth
Discolored teeth
Gapped teeth
Chipped or worn teeth
How Are Porcelain Veneers Placed?
Step 1: Your tooth enamel is trimmed back about the same thickness as the veneer.
Step 2: The dentist will use a shade guide to determine which color of porcelain most closely matches your surrounding teeth.
Step 3: Then the dentist will take an impression of your tooth and its surrounding teeth and gums to fabricate the veneer.
Step 4: A temporary veneer will be placed until your permanent veneer is ready.
Step 5: Your permanent veneer will be bonded creating your brand new smile.
What Are the Advantages of Porcelain Veneers?
Natural Appearance –Porcelain is a ceramic material that has many similar properties to your tooth's natural enamel.
Stain-Resistance – Porcelain also has an extremely smooth and impervious surface.  This makes porcelain veneers quite resistant to permanent stains.
Long Lasting – Porcelain veneers typically last over 15 years.
Color Versatility – The color of a porcelain veneer can be selected such that it makes dark teeth appear whiter.
Ease of Shaping –Porcelain veneers do not require extensive shaping prior to the procedure.
Improves Appearance & Restores Confidence –Porcelain veneers can dramatically change your smile and improve your self-confidence.
Porcelain Veneers Appointments in Oklahoma City, OK
If you want a brand new smile for a brand new year, make an appointment to see Dr. Holman and Dr. Frazier at OK Dental Expressions for your porcelain veneers consultation today. OK Dental Expressions proudly serves patients throughout Oklahoma City, OK, Moore, Norman, Midwest City, and surrounding areas.