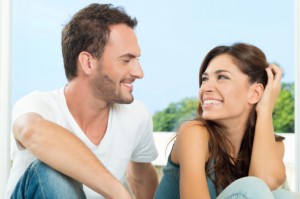 Every smile is different. And yet, as different as every smile is, patients have very similar reasons for wanting a popular cosmetic dentistry service like porcelain veneers. Today on our blog, we'd like to identify each and talk a little about them.
A Straighter Smile without Braces
The first reason patients often turn to porcelain veneers for cosmetic help is that they have crooked or oddly spaced teeth they want to straighten, but they don't want braces. Porcelain veneers can help you with that by hiding imperfections, creating a smile that looks straight, beautiful, and natural. But because porcelain veneers don't actually straighten teeth, we recommend seeing Dr. Colin Holman or Dr. Natalie Frazier at Dental Expressions before you decide. During your first visit with us, we can complete a thorough oral exam that will help us advise you as to the solution that will benefit you the most.
Whiter, More Radiant Teeth
The second reason patients from Oklahoma City and beyond have for turning to porcelain veneers is they want a whiter smile. Often, professional teeth whitening is enough to cut through difficult stains caused by foods, beverages, and tobacco, but some types of stains—like those caused by prescription medications—can be difficult for any whitening system, even the best, to get rid of. Porcelain veneers make it possible to beat any kind of stain, producing a radiantly beautiful smile that you won't have to touch up at a later date.
Do you have another reason for considering porcelain veneers? We'd love to hear about it. Call Dental Expressions today to schedule your consultation appointment with us. Dr. Colin Holman and Dr. Natalie Frazier gladly serve patients from OKC, Moore, Norman, Midwest City, and surrounding communities.