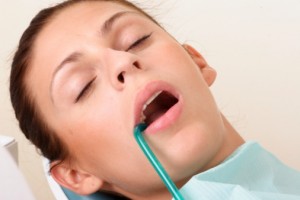 When was the last time you visited the dentist? Sounds like a pretty simple question considering the American Dental Association recommends twice yearly dental checkups. But some people can't remember the last time they saw their dentist. Why? Not necessarily because they're too busy, but more likely because they fear the dentist. This fear and anxiety might be rooted in a less-than-pleasant childhood experience, the bothersome sounds and scary looking instruments in the office or even a feeling of claustrophobia as the dentist and assistant close in on you. Whatever your reason for not seeing the dentist, Dr. Holman and Dr. Frazier at Dental Expressions want to help you overcome that fear in order to receive the dental care you need and deserve. With oral conscious sedation dentistry in Oklahoma City, we can ease your anxiety even before you arrive at our office.

It's often said that the anticipation is worse than the actual event. Oral conscious sedation begins working during that time when your anticipation about a dental appointment stops you from even getting to the dentist in the first place. With oral conscious sedation, your Oklahoma City dentist will prescribe a small sedative pill for you to take at a prescribed time before your visit to our office. Shortly after taking this pill you will begin to relax and you may feel like going to sleep. Because of these effects, you will need to arrange for a friend or family member to drive you to and from your appointment.
When you arrive at the office of the sedation dentist Oklahoma City trusts, we will carefully monitor your condition and adjust you level of sedation so you remain completely comfortable throughout your treatment. When you're ready to begin, we'll get started while you're calm and relaxed. Many of our patients who use oral conscious sedation think they've slept through their appointments because they cannot recall anything that occurred during their visit. However, you're not fully asleep, but rather in a twilight state that allows us to communicate with you.
Call Your Oklahoma City Dentist Today
For your safety, both Dr. Holman and Dr. Frazier have completed coursework in oral conscious sedation. So, if you need to see the dentist for a regular checkup or for a more extensive procedure, call Dental Expressions and ask about oral conscious sedation. We can help you take care of your oral health, so you can have a dazzling smile. Our office is located in Oklahoma City, OK, and serves patients from throughout OKC, as well as Moore, Norman, Midwest City, and surrounding communities.