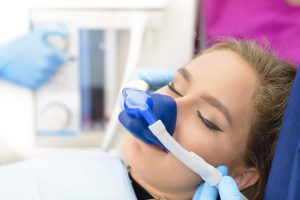 Is it hard for you to sit still in the dental chair? Do you fear complex procedures? Have you postponed dental appointments because you are nervous about going to the dentist? You can overcome dental phobia with sedation dentistry options in Oklahoma City from OK Dental Expressions. Dr. Colin Holman and Dr. Jon Holman offer qualified patients oral conscious sedation to relax and soothe them as they receive their necessary treatments.
Why People Become Afraid of the Dentist
Dental care professionals at the Dental Fear Research Clinic report that up to eight percent of American adults avoid important dental care because they are afraid. In fact, their dental phobia is so intense that the individuals will live with pain or even allow their teeth to crack or fall out just so they don't have to go to the dentist.
Typically, dental fear comes from several sources, including:
Past bad experiences with dentists
Dental sensitivity
Claustrophobia
Overactive gag reflex
Inability to sit still in the dental chair because of back or neck pain
Embarrassment over how their teeth look
Problems with local anesthesia (pain shots)
Oral Sedation Can Allay Fears
The professional team at OK Dental Expressions wants every patient to get the dental work necessary for optimal oral and systemic health. Dr. Jon Holman maintains some nervous people suffer needlessly. As such, he has taken advanced training at the Dental Organization for Conscious Sedation. He offers oral conscious sedation options to ease the discomfort individuals feel about getting dental treatments done.
How Oral Conscious Sedation Works
Dr. Holman and his staff provide a friendly, relaxed atmosphere at OK Dental Expressions. From the time a patient walks through the door to the time he leaves, the individual experiences a welcoming, stress-free atmosphere aimed at delivering the best preventive, restorative and cosmetic care possible.
During an initial oral examination, Dr. Holman:
Inspects for dental decay
Performs a quick and painless oral cancer assessment
Checks the condition of restorations such as fillings and crowns
Does a bite and tooth jaw joint check
Measures gum pockets and check the condition of gums
Depending on the findings, the dentist develops an individualized treatment plan to address continuing preventive needs and immediate restorative concerns. He discusses oral health goals and concerns, too, including dental anxiety. Dr. Holman outlines sedation options and takes a complete medical history to determine which medication is best.
Oral conscious sedation involves the administration of a common tranquilizer such as Halcion, Ativan or Valium in pill form. Taken either at home before the appointment or just before it, sedatives allow the patient to be awake and responsive to commands but very relaxed. Some individuals even drift off to sleep but can be easily awakened when their procedures are completed. A friend or loved one must drive the patient home from OK Dental Expressions.
You Don't Have to be Afraid
If you have been putting off your oral health care, please contact OK Dental Expressions. Our compassionate, professional doctors and support staff will work with you so your dental experience is comfortable and relaxed.