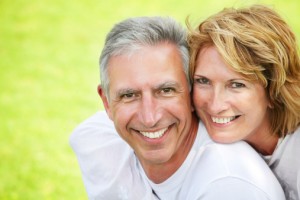 If you are one of the millions of Americans who relies upon dentures to eat, speak, and smile comfortably, it's highly likely that you know how uncomfortable they can actually be. While wearing dentures is certainly preferable to living a life without teeth, these dental prosthetics do come with their own set of drawbacks. Fortunately, modern implant dentistry makes it possible for denture wearers to finally enjoy a more natural, lifelike bite and smile. At Dental Expressions in Oklahoma City, OK, Dr. Colin Holman and Dr. Natalie Frazier offer a comprehensive array of restorative dentistry procedures, including implant secured dentures.
Benefits of Implant Secured Dentures
Over time, a patient who wears dentures finds that their prosthetic may begin to slip when they speak or eat. This is due to the fact that your gums change in shape as the months and years pass, so the prosthetic you rely on to eat and talk must be adjusted accordingly. In addition, dentures can feel uncomfortable, even causing self-consciousness when you speak in social situations. Adhesives and natural suction don't always work, leaving you wondering when your dentures might move or shift unexpectedly at work, at a dinner party, or anywhere else.
With implant secured dentures, your entire dental prosthetic is affixed to tiny titanium posts that are placed directly within the gum and jaw bone. These dental implants serve as sturdy anchors for your dentures, holding them firmly and comfortably in place. You can finally feel free to eat your favorite foods, speak confidently, and smile openly without a second thought. As with all of our other restorative dentistry procedures, we'll be happy to discuss each step of the dental implant process with you, answering any questions you may have along the way.
A Revitalized Smile with Implant Dentistry
Whether you currently wear dentures and are interested in learning more about how dental implants can help you or you plan to have extractions performed and want to explore your restorative options, we are here to help. Contact our office in Oklahoma City, OK today to schedule your consultation with our team of experienced doctors and staff. We look forward to giving you a real reason to smile! Our conveniently located practice happily serves patients from throughout the OKC area and surrounding communities, including Midwest City, Moore, Norman, and beyond.