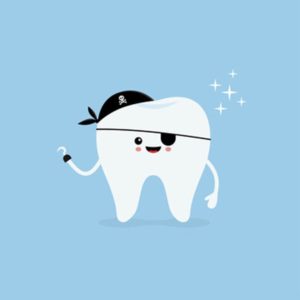 September 19th is International Talk Like a Pirate Day, and in honor of this unique day, we want to take a closer look at why pirates historically have such bad teeth! Here's a little insight into why your favorite swashbucklers were notorious for having such disastrous smiles, along with some tips from your dentist for keeping your own pearly whites healthy and bright.
Why Did Pirates Have Such Bad Teeth?
The pirate life wasn't always smooth sailing; throughout their adventures on the high seas, pirates often suffered from poor oral health due to a few reasons:
Scurvy – Scurvy is a disease caused by lack of vitamin C, which is usually found in fresh fruits and vegetables. One of the many unpleasant symptoms of scurvy is bleeding and swollen gums. As you might imagine, pirates didn't have regular access to vitamin C while sailing, meaning that they were susceptible to scurvy.
Poor oral hygiene – The toothbrush as we know it wasn't quite so common when pirates frequented the seas; they relied on rags or twigs with frayed ends to clean their teeth. Not to mention, they probably didn't clean their teeth twice a day!
Alcohol & tobacco use – Pirates commonly drank alcohol like rum, smoked tobacco, and lived a rather unhealthy lifestyle that can take a toll on one's oral health. Rum is high in sugar which can easily cause cavities, and tobacco has long been associated with several problems including gum disease, tooth discoloration, oral cancer and more.
Lack of available treatment – Pirate ships didn't exactly have a doctor or dentist on board; if a pirate had a bad cavity or tooth problem, the best option was often to ask a fellow pirate to pull out the tooth. Luckily, times have since changed!
Tips for Keeping Your Smile Healthy & Bright
This International Talk Like a Pirate Day, it's okay to talk, sing, and laugh like a pirate—but don't treat your teeth like one! Here are some tips for keeping your smile afloat:
Practice good oral hygiene by brushing your teeth twice a day for two minutes each time. Don't skip flossing, either; it's just as important as brushing!
Stay hydrated and drink plenty of water; it encourages the natural flow of saliva inside of your mouth, which is crucial in the fight against cavity-causing bacteria.
Eat a well-balanced diet and opt for vitamin-rich fruits and vegetables. Try to avoid excessively sugary or starchy items when possible.
Visit your dentist for regular checkups and cleanings; this will allow your dentist to inspect your mouth and ensure that there aren't any underlying problems.
It's fine to pretend to be a pirate; just don't adapt their oral hygiene habits! With a little knowledge and preventive care, you'll ensure that your smile remains a treasure you can cherish forever.
About the Practice
The team at Dental Expressions is proud to serve patients and families in Oklahoma City under the leadership of Dr. Colin Holman and Dr. Jon Holman. They work tirelessly to provide an exceptional level of dental care so that you can feel confident about your smile. Their practice is pleased to offer many available services including preventive, cosmetic, and restorative options. If you'd like to schedule a visit, feel free to contact the practice online or over the phone: (405) 735-6600.