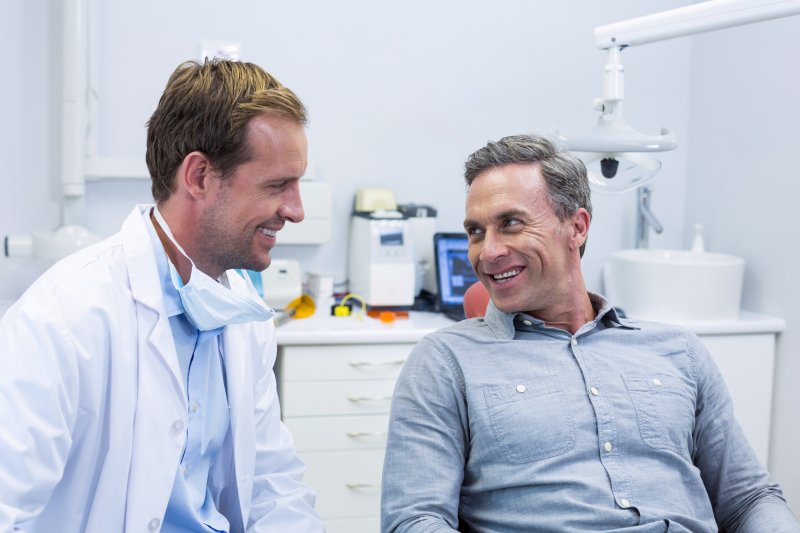 After missing many or all of your pearly whites for a while, you finally decided to replace them with dentures. Though it's best to do what you can to keep your natural teeth healthy and where they belong, dentures are a great way to replace missing pearly whites and regain your confidence in your smile. Even so, it can take some people a while to get used to them. To help ease the transition, read on to learn some tips, tricks, and what you can expect when adjusting to talking with dentures.
How Dentures Affect Speech
Talking with dentures can feel awkward at first and may cause slurred speech, a lisp, or excess salivation. You may have trouble pronouncing the letters "f" and "s", which could sound more like "th" or "sh". Words that contain "th," "f," and "v" may also be difficult. Additionally, you might make a whistling sound when trying to pronounce the letter "s." Your dentures may also click or shift while you speak.
Though these issues may be frustrating to deal with, they're very common and can be conquered over time with practice. Your dentures may even end up improving your speech by eliminating the pronunciation issues or lisps often caused by missing teeth. Even so, restorations that were made incorrectly may prevent your tongue from properly positioning itself to make certain sounds. If this happens to you, speak with your dentist about having them fixed.
Overcoming Speech Problems with Dentures
It takes an average of 15 to 30 days to adjust to talking with dentures. At this point, excess salivation and sore spots will likely decrease or go away altogether. There are numerous ways to make talking with dentures easier, including:
Use denture adhesive – Once you've stopped producing excess saliva, you can put a special adhesive on your dentures to keep them in place while you speak and make them fit better.
Bite and swallow – Doing this before you begin talking will help minimize speech issues. If the issue continues or worsens, speak with your dentist about having them adjusted.
Speak slower – Clicking dentures are caused by you bringing your teeth together harder than intended when you speak. Practice talking slower so you'll know how much force and space you have between your teeth.
Read aloud – Doing this at different volumeswill help you learn the right way to talk with dentures.
Talking with dentures is different than speaking with your natural teeth, but the above tips will help you get used to it. Before you know it, you'll be laughing, smiling, and speaking with confidence!
About the Practice
If you live in the Oklahoma City area and have been searching for a trustworthy, compassionate team of oral health professionals, Dental Expressions is the place for you. Led by Dr. Jon Holman and Dr. Colin Holman, they treat patients of all ages with the care they need to maintain healthy, happy smiles. If you're struggling with adjusting to talking with dentures, they can give you tips and tricks that will have you feeling more comfortable in no time. To make an appointment or for more information on dentures, call Dental Expressions' at (405) 735-6600 or visit their website.