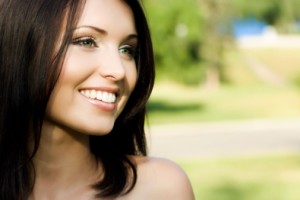 Healthy, luminously white teeth are the building blocks of an attractive and confident smile. If your teeth have grown yellow or stained over time, you may not feel so good about showing off your smile to those who matter most. At Dental Expressions in Oklahoma City, OK, Dr. Colin Holman and Dr. Natalie Frazier offer a variety of cosmetic dentistry services to bring your smile to beautiful life, including professional grade teeth whitening treatment.
Teeth Whitening in OKC and the Surrounding Areas
If you've ever tried whitening your teeth with the over-the-counter products you find at your local drugstore or pharmacy, chances are that you've noticed how ineffective they really can be. Strips tend to slide around on the surfaces of your teeth, or they fail to adhere closely enough to deliver the intended effect. Generic trays aren't custom-fitted to your unique dentition, so the whitening gel you load them with can leak out while you wait. Fortunately, there is a better way of whitening your teeth and brightening your smile.
At Dental Expressions, our dentists trust the powerful yet gentle power of professional grade bleaching gel, utilizing customized trays that precisely fit the contours of your teeth and gums. The high quality formula can effectively lift years of deep, set-in stains from your enamel, revealing a brighter, more attractive smile better than any store-bought product can. Even staining and yellowing caused by tobacco, coffee, tea, wine, and certain antibiotic medications can be corrected with our teeth whitening treatments.
Schedule Your Consultation Today!
If you've been longing for a whiter, more radiant smile that lasts, contact our office in Oklahoma City, OK today and reserve your appointment with Dr. Holman and Dr. Frazier. Our family-friendly office happily welcomes patients from throughout the greater OKC area, including Midwest City, Moore, Norman, Del City, and beyond.