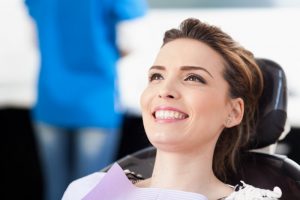 You're hanging out tonight with an old friend you haven't seen in a while. Naturally, they take some pictures of the two of you together, which are of course going to end up on social media later. The idea of someone, even your friend, posting pictures of your chipped, gapped, or stained teeth for all to see fills you with dread. Fortunately, your dentist has a solution – veneers in Oklahoma City. These custom restorations can be placed over your problem teeth to give you an amazing smile. Keep reading this post to learn more about how veneers can help you.  
What Are Veneers?
Veneers are thin sheaths that can be placed over the front surfaces of your teeth to instantly correct cosmetic flaws. They can be made of dental porcelain or composite resin, both of which are excellent material for dental restorations, since they are able to mimic natural tooth enamel, even down to the way they reflect light. Each veneer is custom-made to naturally blend into your smile.
Who Is a Good Candidate for Veneers?
If you have any of the following aesthetic imperfections in your smile, veneers may be right for you:
Chips, cracks, or fractures
Stains or discoloration
Slightly misaligned teeth
Minor gaps in between your teeth
Worn-down or misshapen teeth
Other than that, the only requirement is that your teeth are free of infection. This means if you have cavities or gum disease, your dentist will have to address those issues before placing veneers.
Benefits of Porcelain Veneers Over Composite Veneers
Porcelain veneers differ from composite ones in a few ways. For one, composite veneers are made of a resin which is directly bonded to the tooth and hardened with a curing light. Although they are generally less expensive than porcelain, consider the fact that porcelain veneers have a longer lifespan on average and are incredibly durable. Many dentists also believe that porcelain looks slightly more lifelike than composite resin.
Ultimately, whichever option you choose is up to you and your dentist in OKC. It may depend on cost, but keep in mind that since porcelain lasts longer, you'll have to get it replaced far less often over the course of your life than you would with composite resin.
How to Make Your Veneers Last
Believe it or not, veneers of any kind don't require any special care beyond what you would do for your natural teeth. Simply brush and floss them as normal, wear a mouthguard if you play sports or a nightguard if you grind your teeth, and visit your dentist for checkups and cleanings every six months.
No matter which type of veneer you get, it can drastically transform your smile and even your quality of life. Ask your dentist which type would be better for your smile today!
About the Author
Dr. Colin Holman earned his Doctor of Dental Surgery degree at the University of Oklahoma College of Dentistry. He then served as the dental director at the Kickapoo Tribal Health Center before practicing in OKC. His professional memberships include the American Dental Association, the Oklahoma Dental Association, the Academy of General Dentistry, and the American Orthodontic Society. There are few things he loved more than revitalizing someone's smile with cosmetic treatments like veneers in Oklahoma City. To learn more about whether veneers are right for you, visit Dr. Holman's website or call (405) 735-6600.