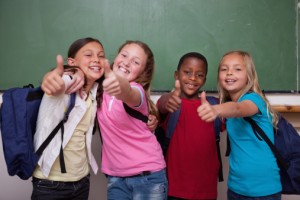 You do your best to keep your children healthy by monitoring their diet and keeping them active – but what about their teeth? Going to the dentist's office can be scary at first, especially for little smiles. Here at Dental Expressions, we understand how crucial it is for your little one to have a pleasant and comfortable experience at our Oklahoma City office every time they come in; after all, establishing good dental hygiene habits at such a young age can put them on a lifelong path towards optimal oral health! With a variety of personalized and gentle children's dentistry services, Dr. Colin Holman and Dr. Natalie Frazier will be sure to keep your son or daughter's teeth healthy and happy for years to come.
Children's Dentistry Leaves Little Kids Smiling
We suggest first bringing your child into our Oklahoma City office around the age of two – not for a full-blown dental appointment, but instead for what we like to call a "happy visit." Children often have the most trouble with situations, places, or people that are unfamiliar to them; this way, we can prepare them for their first visit by introducing our staff, showing them all the tools we use, and even letting them sit in the dentist's chair!
We usually suggest that children should start attending regular check-ups and cleanings around the age of three to five; however, if you notice any abnormalities in the way their teeth seem to be developing before then, please feel free to bring them in so we can take a look. During these appointments, we'll be sure to keep our care gentle and conservative while also watching out for potential problems. Our friendly hygienist will be glad to show you and your son or daughter how to properly brush and floss at home.
Once your child is older, we can provide them with other personalized children's dentistry services, such as dental sealants and fluoride treatments – both of which help to keep teeth strong and cavity-free!
Our team loves children, and we can't wait to provide them the tools they need to keep their smile looking lovely for a lifetime. Bring your loved ones to Dental Expressions for caring children's dentistry services today! Call our Oklahoma City office to schedule an appointment. We also are happy to see patients from the OKC area, Moore, Norman, Midwest City, and the surrounding communities.