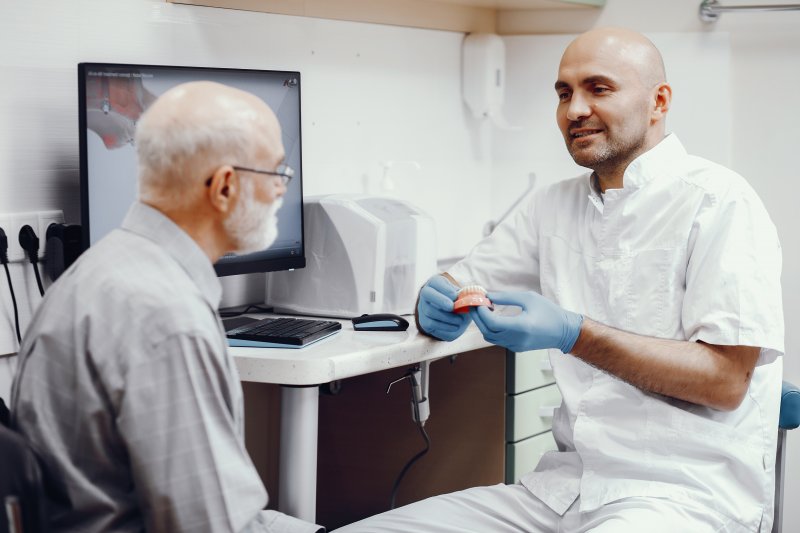 As you get used to wearing a new denture, you'll want to consider how to take proper care of it so it gives you as many years of use as possible. This includes taking steps to keep it stable in your mouth, not just so you can eat food and speak properly, but prevent it from falling out on accident and becoming damaged. This is where a denture adhesive comes in. While you shouldn't need to wear denture adhesives all the time, it helps to know which one to reach for when you do need them. Learn the differences from an expert, when you should be using them, and when it's time to opt for a refitting instead.
When Should I Be Using Denture Adhesives?
Denture adhesive is not meant to be used all the time. Rather, it's really only recommended during the following circumstances:
When taking cold medicines, as these can lead to dry mouth and make your denture less secure
If you speak or perform for a living (ex. public speakers and musicians may need added security)
If you've previously had a stroke or deal with neurological disabilities
When you've had teeth pulled out recently (as the bone can take up to 10 months to restructure, meaning your denture may not fit properly at first)
How Do Common Denture Adhesives Compare?
There are four types of denture adhesive to choose from. These include:
Adhesive strips
Powder
Cream
Zinc-free
Those who have a denture that already fits quite well but are looking for added security will find powder and strips to be better as they are thinner and work to provide stability in areas where you need it most. Alternatively, those with a loose denture will prefer cream because of its ability to fill in the gaps where the denture doesn't properly adhere to the gums. If you're concerned about overexposure to zinc, there are many brands available that cater to patients with this need as well.
Should I Consider a Relining or New Denture Altogether?
While denture adhesives can be very useful, they are not necessarily meant to be used in the long-term. For example, there are two main situations where denture adhesive may not actually be the best option as they can be more harmful than helpful. For example:
If your denture has not been relined in a long time, you should visit the dentist you received the denture from instead. There, they can confirm if adjustments need to be made so they do not slip or hurt your gum tissue.
Additionally, if you are not diligent about your oral health (or are not able to perform daily brushing), denture adhesive could be unhelpful. Dentures require brushing, soaking, and rinsing daily as well as removal of all denture adhesive to keep them properly clean.
If you're still not sure which denture adhesive is right for you, don't worry. A dentist is happy to explain more when you visit them for a checkup. Not only can you confirm which product you should choose, but you can make sure your denture doesn't need repair or replacement!
About Dental Expressions
Drs. Jon and Colin Holman are fully dedicated to providing the best dental care experience they can, whether it's completing routine checkups or helping patients make their denture more comfortable to use. They'll perform a thorough examination of your oral health, design a denture that's customized to your needs, and provide helpful tips to maintain it so it lasts for as long as possible. To schedule an appointment, you can contact them through their website.