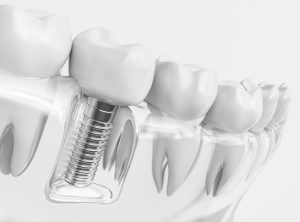 Life with missing teeth can be challenging. Maybe you've stopped going to your favorite restaurant because you can't eat the food you love anymore. Maybe you find yourself being more reluctant to smile in front of people you've just met. Or maybe you're having trouble making yourself be understood when you speak. A healthy smile can be the key to leading a fuller, more confident life, so how can your dentist help you get it back? Dental implants are a seamless, long-lasting solution for tooth loss that can help get your oral health back on track.
What Are Dental Implants?
Dental implants are titanium posts placed in the jaw and topped by crowns, bridges, or dentures. The titanium posts serve as tooth roots for replacement teeth, which helps create a fully functional, natural-looking smile.
What Are the Advantages of Dental Implants?
One of the biggest advantages of dental implants is that they look and function like natural teeth; it's difficult for the casual observer to tell dental implants from a regular tooth, and because they're anchored into the jawbone, they help prevent bone loss that often happens with missing teeth, which means it helps maintain your natural teeth and the size and shape of your jaw.
Because dental implants are fixed in place, they provide enhanced chewing power nearly equal to the chewing power of natural teeth. They're also designed for comfort; since they're fixed in place, you don't need to worry about them moving around. When properly cared for and maintained, dental implants are reliable and last for a long time.
What About Traditional Dentures or Dental Bridges?
While traditional dentures have been used for a long time as an option for tooth replacement, there are many problems with their use. Since they're not fixed in the mouth, they offer minimal chewing power and require adhesives to stay in place, and they can easily slip out of place while eating or talking.
Dental bridges are another option for missing teeth, but unlike dental implants, dental bridges require adjacent teeth to be ground down so that the bridge can be cemented onto them; weakening the teeth in this way can lead to fracture, decay, and other problems. Dental bridges also tend to only last about ten years, while dental implants can last much, much longer.
Should I Get Dental Implants?
Compared with other tooth replacement options, dental implants are more comfortable, look natural, enhance chewing ability, better maintain mouth shape, and have a higher success rate. When looking at long-term value, dental implants are an excellent option for filling in your smile.
About the Practice
At Dental Expressions, Drs. Colin Holman, DDS, and John Holman, DDS, offer comfortable care and work with each individual patient to help them obtain their oral health goals. In addition to dental implants and other tooth replacement options, they offer comprehensive family care and employ state-of-the-art technology to provide patients with a comfortable experience here in Oklahoma City. The practice can be contacted through their website or at (405) 735-6600.