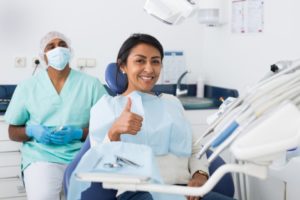 With the calendar flipping to 2023 soon, you probably find yourself thinking about what this year has in store for you. New Year's resolutions can be great for self-improvement, but don't get so bogged down thinking about them that you forget to schedule a dental checkup. On that note, your dentist in Oklahoma City is here to discuss some reasons why getting that cleaning and exam done early in the year can pay dividends.
Get Going Strong in 2023
You probably aren't wanting to risk dental issues late next year. After all the delicious food that you had over the holidays, it is probably time that you have your teeth checked out. If your dentist finds any small issues now, like tooth decay or gingivitis, they can be treated before becoming more serious.
Having a small filling now can help you to avoid the need for a root canal in the future. Few things can ruin exciting plans faster than an agonizing toothache. There is no reason to carry on with a smile that's anything other than healthy.
Capitalize on Your Dental Benefits
Millions of Americans have dental insurance through their job or other means. If you have dental insurance, you probably already know that your benefits renew at the beginning of the calendar year. This means that you are once again responsible for paying your annual deductible.
By going to your dental office in January, you can get this payment over with so that you don't need to worry about it again until 2024. This is great if you have multiple dependents on your insurance plan. You don't want to end up with any unnecessary surprises later in the year.
Set That Appointment While You Know You Can
Isn't it nice to have all those empty spaces in your planner? So much time to yourself. However, you know that it is too good to be true. Soon enough, you will have all sorts of events, meetings, and other appointments. Your dentist's schedule is filling up quickly, too. If you want to choose an appointment time that fits best into your schedule, you should call now.
Be sure to follow through on those New Year's resolutions that will improve your life, but also remember how a wintertime dental checkup can benefit you. Your dentist in Oklahoma City is ready to help ensure your smile is stellar throughout 2023!
About the Practice
At Dental Expressions, we provide efficient and comfortable dental care to patients of all ages. Dr. Colin Holman previously served as the Dental Director at the Kickapoo Tribal Health Center. Dr. Jon Holman joined the Dental Expressions family to best serve patients in the Oklahoma City metro area. Both men are members of the American Dental Association which ensures they stay up to date on the latest technology and techniques. Our team will be happy to discuss your dental insurance benefits or anything else in advance of a checkup and cleaning that you can schedule on our website or call (405) 735-6600.