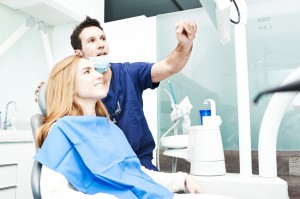 There's a lot going on in your mouth right now. Various bacteria and other mouth-loving chemicals are moving up, down, over, and across your teeth. Some of these bacteria are washed away from your saliva, but other fragments can remain. Think of food particles. Every time you eat food the spaces between your teeth and other areas throughout your mouth are inundated with food particles that haven't been properly digested. When these food particles stick around for too long they begin to rot. Rotting food isn't good for your mouth – bacteria can flourish and eventually result in tooth decay, which can then lead to costly procedures and more time than you have spent at our dental office. There's a lot you can do to keep your mouth in excellent health, including brushing and flossing twice a day. Unfortunately, doing these tasks alone won't keep your mouth totally clean, but it certainly does help. The rest can be taken care of by us. A dental checkup helps keep us in the loop as far as your oral health is concerned. We're your extra set of eyes for things you can't see in your mouth. We'll clean and polish your teeth while keeping an eye out of possible disease or cavity development. The dentists Oklahoma City, OK trusts are right here in our office.

Get Your Teeth Checked Out Every Six Months – No Excuses
Every six months is the norm that way you can get check out twice in the same year. This gives us ample time to diagnose any problems that may be occurring, but also helps us maintain the health of non-impacted teeth. It's a birds-eye view of your mouth. If you're experiencing any tooth pain, let us know. In fact, if you're dealing with any pain or strange feelings in your mouth, it's best to get it looked at by one of our pros.
Though widely known, few know what all happens during a general checkup. We go over every tooth with a fine-tooth comb. What else happens?
We'll examine your gums
Signs of gum disease are investigated
We'll examine loose teeth if there are any
Examine the tongue
Ensure any dental appliance is up to standards
Check your bite for any misalignment issues
And so much more
Chances are you're not a dentist, so why not leave the job to us? Yes, you can have a great looking smile and still have problems going on in your mouth. The only way to spot them is with our help.
General Dentistry Oklahoma City Residents Can Enjoy
Don't delay when it comes to the health of your teeth. Any untreated problems can turn into even bigger ones, so it's important to schedule a checkup soon. We want you to get a clean bill of health, so put your trust in Moore dentists, Dr. Colin Holman and Dr. Natalie Frazier. We're proud to serve our neighbors around Oklahoma City, OK, in Valley Brook, Moore, Midwest City, Del City and beyond.